Our Commitment to Being Good Corporate Citizens
At Charles River, we are committed to creating value for our clients, our employees, our communities, and our planet, executed through our Corporate Citizenship efforts and programs. We are also dedicated to continuing to raise the standard for ourselves, making strategic investments in time and resources to meet our goals, drive improvements, and achieve greater impact.
At the core of our approach to corporate citizenship is a commitment to transparency. We have developed and published our Corporate Citizenship Report (view PDF | print PDF) to enhance the reporting of our environmental, social, and governance (ESG) efforts; performance; and goals in our key areas of focus, including:
Our Leadership — Conducting our business with transparency and integrity
Our People — Building a culture of purpose, learning and quality outcomes
Our Communities — Supporting the geographies where we live and work
Our Environment — Working safely and sustainably
"We believe that the way in which we do business influences the results we work to achieve."
— James C. Foster, Chairman, President and Chief Executive Officer
Our Leadership
We are committed to operating our business with integrity and accountability.
Highlights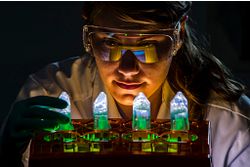 • Throughout the COVID-19 pandemic, our business operations have uniformly been deemed 'essential' according to guidance provided by governments, health, and other regulatory agencies. In response to the pandemic, Charles River established a global crisis management team of internal and external experts, who have been closely monitoring the COVID-19 outbreak and its impact on employee safety and our business operations. We also established a dedicated page on our corporate website, as well as an internal resource for our employees, to provide timely and important information to stakeholders and the general public.
• Through our Humane Care Imperative (HCI), we establish industry best practices and provide education and training globally, to increase awareness of the importance of humane care to foster good animal welfare. The principles of the 3Rs (Replacement, Reduction, and Refinement) are central to our HCI and demonstrated across our organization, which includes more than 230 veterinarians and 1,300 animal care professionals at our facilities worldwide.
• Charles River Laboratories (NYSE:CRL) was added to the S&P 500 Index in May 2021.
Accomplishments
• Over the past year, we have further strengthened our Board of Directors (Board) by adding greater diversity in background and experience, including industry skills and expertise, gender, and race/ethnicity, subsequently increasing female representation to 25% and minority representation to 8%.
---
Related Information
Our People
We are committed to creating a work environment built on trust, inclusion, accountability, respect, and well-being, to give every person the ability to deliver on business commitments, while having purpose, being energized and continuously learning.
Highlights
• Our CEO is a signatory to the CEO Action for Diversity and Inclusion, affirming our commitment to equality, as well as the belief that it is the obligation of each of us to live these values and behaviors, not only in our daily work interactions with our colleagues, but in our everyday lives.
• We actively recruit top talent and invest in our people to enable them to build a career with us. In 2020, Charles River developed a two-year strategy to strengthen our talent acquisition by prioritizing in-house recruiting and training our hiring managers on behavioral-based interviewing.
• We have created a global learning strategy that includes technical training, mentoring and coaching programs, tuition reimbursement, rotational programs, leadership development programs, and on-the-job training.
Accomplishments
• Charles River launched a Diversity, Equity & Inclusion Council in 2020 and established a formal global Diversity Strategy, comprised of five pillars: Increase Representation, Build Awareness and Understanding, Strengthen Belonging, Commitment to Community, and Ensure Equity.
• In 2020, employees completed nearly 220,000 courses in a key e-learning content platform and in Campus, one of our learning management systems. These development activities included operational trainings, as well as leadership and personal development courses delivered online or in person.
• In 2021, Charles River formally launched global Employee Resource Groups (ERGs), to foster equity and belonging by providing employees support with personal and career development, culture and educational awareness, and community activities.
---
Related Information
Our Communities
We are committed to investing in the communities where we live and work.
Highlights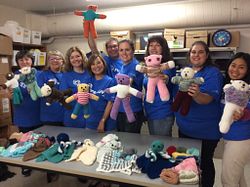 • Due to the impact of the COVID-19 pandemic, nonprofit organizations within our local communities faced a funding shortage in the spring of 2020. We responded by donating $2 million to more than 300 community organizations in support of local food banks; first responders; youth and family organizations; science, technology, engineering and math (STEM) education; and scientific causes.
• In April 2019, we hosted our third annual Global Day of Service, during which nearly 5,000 employees across more than 60 Charles River sites participated. Their efforts, which included packaging approximately 1.2 million meals, assembling thousands of care kits, and providing hundreds of birthday gifts to children in foster care, prosthetic hands to amputees, and school backpacks to local families in need -- directly impacted approximately 15,000 individuals. In response to the COVID-19 pandemic, Charles River's annual Global Day of Service was cancelled in 2020, and the scope of our volunteer time off (VTO) programs expanded to include 'Acts of Caregiving'. Employees, through 'Acts of Caregiving', could utilize VTO in support of the caregiving of another.
• We host annual Purpose Days for our employees to support both the research and awareness of rare disease and oncology, including hosting an Oncology Awareness Day to highlight our work in cancer research.

Accomplishments
• Charles River more than doubled philanthropic giving in 2020 compared to the prior year, with a hyperlocal focus on supporting the communities where we live and work. Total giving in 2020 included $2 million in local community donations, in response to the COVID-19 pandemic.
• In 2020, despite the limitations imposed by the COVID-19 pandemic, nearly 1,200 employees contributed more than 9,500 hours of service through our VTO programs.
• In 2021, the Charles River Employee Relief Fund was established, for the purpose of helping Charles River employees facing financial hardship after a natural disaster or an unforeseen personal hardship.
Annual Global Day of Service
Our Environment
We are committed to conducting our business in an environmentally sustainable manner, embedding working safely and sustainably into everything we do and every decision we make.
Highlights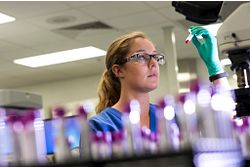 • Effective January 1, 2020, Charles River established a $5 million Annual Sustainability Capital Fund to fund projects like new construction, facility retrofits, and the procurement of more sustainable equipment. This fund supports sustainability capital projects annually from now through year-end 2030. In 2020, sustainability projects were approved and funded that will reduce our annual Scope 1 and 2 GHG emissions by ~1.6%.
• Charles River entered into a 15-year virtual Power Purchase Agreement (vPPA) for approximately 100MW of solar energy, which will supply our North American facilities with 100% clean, renewable energy by 2023. In addition, we are exploring an additional vPPA to cover 100% of our European electricity load.
• In 2019, we established a Total Supplier Management Program to maximize value and promote collaboration with our strategic partners and key suppliers, that in addition to our Supplier Code of Conduct, promotes responsible business practices among our supply chain.

Accomplishments
• Since 2018, we have made a concerted effort to procure clean, renewable energy for our facilities. As of year-end 2020, more than one third of our electricity utilized globally is from renewable sources.
• In 2020, Charles River joined the RE100 Global Initiative – the global corporate renewable energy initiative of businesses committed to achieving 100% renewable electricity use globally.
• Our Scope 1 and 2 GHS emissions decreased on an absolute basis by 26% from 2018 to 2020, driven by renewable electricity use and energy conservation measures.
• Through our efforts to promote employee health and safety, we achieved a 21% reduction in Total Recordable Incident Rate (TRIR) from 2018 through 2020.
• In June 2021, Charles River joined the Pharmaceutical Supply Chain Initiative (PSCI), a group of pharmaceutical and healthcare companies committed to establishing and promoting responsible supply chain practices, including: health and safety, ethics, human rights and labor, and the environment.
Goals
• In December 2019, Charles River announced the goal to reduce our Scope 1 and 2 GHG emissions by 50% (from a 2018 baseline through 2030), in line with current climate science, the Paris Climate Accord, the UN Sustainable Development Goals, and the Science Based Targets Initiative (SBTi). In November 2020, we further committed to reducing our Scope 3 GHGs by 15% during the period 2019 to 2030.
• Through our efforts to procure renewable electricity, we are committed to achieving 100% renewable electricity globally by 2030 as part of our GHG reduction strategy.
• In 2019, Charles River set a 2030 goal of reducing our TRIR by 50% from a 2018 baseline.
---
Related Information