Charles River Offers Embryology Services & Contract Breeding
of Genetically Engineered Mice and Rats
Charles River provides a complete portfolio of embryology services including cryopreservation, rederivation, model creation and rapid colony expansion.

Request Special Pricing

Model Evaluation Program
Do you wish to trial a model to test suitability before making a purchase? Explore our free animal model evaluation program.

Trial a Model



If you need a highly immunodeficient mouse model...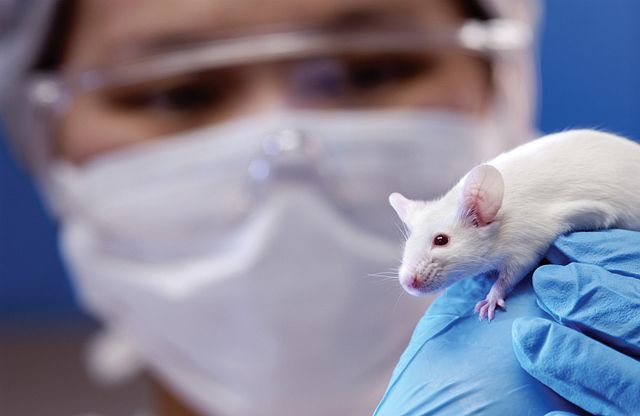 Our NCG mouse model is the most highly immunodeficient mouse and the model of choice for cancer xenograft modelling, stem cell biology, humanized mice, and infectious disease research.
New Year Welcome Program
Charles River's 2021 Welcome Program is designed for new inquiring researchers to provide you with special discounts and technical support for your next study. These welcome offers are available from January 1, 2021 through March 31, 2021.
Preferential Pricing
Columbia receives preferential pricing and unique offers for many of our products and services, including:
• Highly discounted select immunodeficient models
• Flat price of $50.95 for Athymic Nude mice
• 30% off BALB/c mice
• 30% off NOD SCIDs
• 25% off academic pricing for NCG triple-immunodeficient mice
• 30% off genetic testing services
• Discounts on freight and crate costs
• Substantial discounts on genetically engineered models and services

Pricing for NCI grantees will not increase in 2020. Our NCI 2020 catalog offers grantees a reduced price on popular models. See what you can save
Download our catalog using your Columbia email account to view research model discounts and terms and conditions for Columbia University. If you have additional questions, contact Maria Torrey for more information.

Immunodeficient models are important for a variety of research applications. The chart below, showing immunodeficiency and phenotypes, can be used to help identify the model that best fits your research needs. Columbia receives preferential pricing on many of our immunodeficient models.
| | | | | | |
| --- | --- | --- | --- | --- | --- |
| Strain | Species | T-Cell-Deficient | B-Cell-Deficient | NK-Cell-Deficient | Hair Coat |
| RNU Nude | Rat | YES | NO | NO | NO |
| Athymic Nude | Mouse | YES | NO | NO | NO |
| CD-1® Nude | Mouse | YES | NO | NO | NO |
| NU/NU Nude | Mouse | YES | NO | NO | NO |
| BALB/c Nude | Mouse | YES | NO | NO | NO |
| SCID Hairless Congenic (SHC™) | Mouse | YES | YES | NO | NO |
| SCID Hairless Outbred (SHO®) | Mouse | YES | YES | NO | NO |
| Fox Chase SCID® | Mouse | YES | YES | NO | YES |
| NCI NOD SCID® Beige | Mouse | YES | YES | NO | YES |
| Fox Chase SCID® Beige | Mouse | YES | YES | Impaired | YES |
| NIH-III Nude | Mouse | YES | YES | Impaired | NO |
| NOD SCID | Mouse | YES | YES | Impaired | YES |
| NCG | Mouse | YES | YES | YES | YES |
Genetically Engineered Models and Services (GEMS)
Our GEMS division offers a wide variety of services from breeding to model creation. Our decades of experience and vast network of vivariums around the world gives us the opportunity to offer an unparalleled selection of custom models and services to meet your unique needs. Researchers at Columbia receive many discounts off services provided by GEMS. Use our quoting tool to view the best price for your study.

Model Creation Services
Our experts can guide you through the model creation process.
Breeding Services
No need to worry about breeding your own colony – we'll deliver animals to you when you need them.
Embryology Services
Our embryology services will help you protect your lines and generate new ones.
• Our cryopreservation services can protect your lines from genetic drift, natural disasters, and catastrophic events.
• Rederivation can help you obtain animals that are free of infectious agents.
• Rapid colony development uses sophisticated IVF technology to generate animal colonies quickly.
Quarantine Services
Our isolator-based quarantine is ideal for accepting animals into any institution.
Genetic Testing
We offer assay development and genotyping services to maintain the integrity of your lines transgenic lines.
Surgical Models
Our surgical services are conducted by highly skilled surgeons with vast experience in veterinary medicine and animal science with the ability to perform highly complex catheterizations and cannulations. Our services include:
• Vascular catheterization
• Non-vascular catheterizations
• Cardiovascular surgery
• Neurological procedures
• Soft-tissue Procedures
• Device implants
• Biospecimens
Columbia University Virtual Seminars
Immunodeficient and Humanized Models: Applications for Immuno-Oncology Research – Passcode: K6S$qqB!
Guidebooks
Check out our free, digital laboratory animal guidebooks on infection surveillance of rodents and colony management for mice and rats.
• Modern Strategies for Infection Surveillance
• Mouse and Rat Colony Management
Publications
• Targeting the Human MUC1-C Oncoprotein with an Antibody-Drug Conjugate
JCI Insight, 2018)

• Clodronate Improves Survival of Transplanted Hoxb8 Myeloid Progenitors with Constitutively Active GMCSFR in Immunocompetent Mice
Molecular Therapy – Methods & Clinical Development, 2017)

• Accumulation of Cytoplasmic CDC25A in Cutaneous Squamous Cell Carcinoma Leads to a Dependency on CDC25A for Cancer Cell Survival and Tumor Growth
(Cancer Letters, 2017)
Webinars
• Upcoming
• On demand
• GEMS webinars, covering cryopreservation to CRISPR/Cas9 model creation
• Germ-Free Colony Management
• Maintaining a Static Microbiome Across Research Projects: Can It Be Done?
• Immuno-oncology/oncology
• Continuous Improvements in Humanized Mouse Models
• Finding the Right Humanized Model for Your Research
Seminar Topics (Personalized Trainings)
Our team of Research Model Specialists offer free educational seminars on a variety of topics, including:
• Immunodeficient and humanized animal models for oncology studies
• Using and applying our vascular catheter models
• Others, upon request
Posters
• Common Rodent Health Conditions
• Metabolic Diseases
• Immunodeficient Mice
Regulatory Training and Continuing Professional Development
Charles River Insourcing Solutions℠ provides high-quality training and continuing professional development for veterinarians, scientists, lab technicians, and anyone else working in the field of animal research. Courses for rodents, zebrafish, and other species include personal license holder categories PIL A, B & C, and a PPL Module for project license applicants. CPD courses include NACWO, NTCO, a law refresher course, and more.

In person and eLearning options are both available. See our upcoming courses at a location near you, or contact Maria Torrey about delivering a course at your facility.

ARRIVE Guidelines
Read more on ARRIVE guidelines (Animal Research: Reporting of In Vivo Experiments), which include clear guidance on research model nomenclature guidelines and other reporting criteria.
How can I get information about special offers on research model and services?
Please contact Columbia University Business Development Director

[email protected]

or call/text 978-495-0985.
What is your evaluation program?
Our evaluation program offers free research models to clients that have not used a strain to evaluate the quality and compatibility of our animal models with their research before making a commitment. Whether you have a new research protocol, are conducting or fine-tuning a pilot study, or simply exploring the opportunity to switch to a new animal model, this program can help you make the right choice.
Do you have any COVID-19 related resources?
Yes. Take a look at our COVID-19 resources. A popular model for work on SARS-CoV-2 is Syrian Hamsters.
Do you have aged C57BL/6 mice?
Yes. We have an aged C57BL/6 colony.
Are health reports available?
Yes. Health reports are available for research animal models bred by Charles River in North America.
Where can I find additional educational resources?
See our expanded digital resources.
Do you provide information on infectious agents?
Yes. Understanding infectious agents that can contaminate your research animal facility allows you to develop a plan to manage or prevent an outbreak. Our technical sheets contain information on viruses, bacteria/fungi, and parasites prevalent in laboratory animals.
When can I expect delivery?
Delivery days for Columbia University are Tuesdays and Thursdays.
How do I contact Charles River?
Please contact our US client services team directly:
• Email:

[email protected]


• Phone: 1-800-522-7287