GMP Biologics Services
Our team in Shrewsbury has over 20 years' experience offering a comprehensive range of analytical studies including reference standard characterization, stability, method development, phase-appropriate validation and release testing.

Areas of Service Offerings
Identity
Content and Potency
Purity and Impurities
Physiochemical Properties
Physical Attributes
SDS-PAGE with western blot or CE-SDS
Cell-based potency assays
Residual host cell proteins (HCP)
pH determination
Visual assessment
Isoform analysis (IEF, C-IEF)
In vivo potency
Size-exclusion HPLC (SEC)
Osmolality determination
Determination of volume in syringes and vials
Peptide map
 
Protein concentration 
Cation-exchange HPLC
—
Determination of excipient levels
—
Binding assays (SPR, FRET)
Reverse-phase (RP) HPLC
—
Sub-visible particulates
—
—
CE-SDS, 
C-IEF
—
Moisture
content
Analytical Services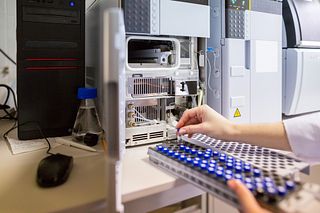 According to current regulatory guidelines, extensive analysis is necessary to establish a well-characterized biologic or to demonstrate comparability between a biosimilar and the reference product. Due to these regulatory requirements, analytical testing plays a critical role in process development and the manufacturing of biopharmaceuticals.
Our skilled analytical chemistry staff has worked with a broad spectrum of molecules, including peptides, lipids, proteins, glycoproteins, protein conjugates, plasmids, adeno-associated viral vectors (AAV), synthetic peptides, oligonucleotides, and small molecules. Our analytical capabilities allow us to tailor a characterization plan to suit the needs of your product.
Mass Spectrometry

Intact proteins, including native LC-MS
Peptide mapping method development
AAV and VLP characterization
Glycosylation characterization
Disulfide bond characterization
Oligonucleotides
Lipids
Host cell proteins (HCP)


Discover our full portfolio of mass spectrometry services.

Process-Related Residuals

Ensure your product is free from:

Protein A
Polyethylamine immine (PEI)
Antifoams
IPTG
Antibiotics

Product-Related Impurities

N-Terminal truncations
Oxidation/deamidation/glycation
Disulfide bridge scrambling (misfolding)
C-Terminal heterogeneity and integrity
Aggregation

Biophysical Characterization
Correct higher order structure (HOS) is critical to ensuring proper functionality, activity, and stability of a biopharmaceutical product. A well-developed panel of methods for HOS characterization is an essential component of a complete product characterization program.
Our Shrewsbury, MA facility can determine the HOS of your protein with the following testing:

Bioactivity and Potency Assays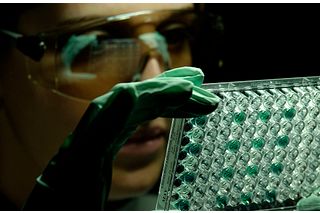 Potency testing is necessary to ensure the quality, safety, and efficacy of biopharmaceutical products, as well as the confirmation of biocomparability between an innovator and biosimilar product. Our full range of potency testing services for a variety of biologics includes both in vivo and in vitro bioassays.
In Vitro Bioassay Services

Product-Specific Cell-Based Bioassays

Compendial bioassays for cytokine products
Potency testing of human growth factors through proliferation assays
Monoclonal antibodies tested for antibody-dependent cell cytotoxicity (ADCC), antibody-dependent cellular phagocytosis (ADCP), complement-dependent cytotoxicity (CDC), and apoptosis/programmed cell death (PCD


Target-Specific Reporter Bioassays

For monoclonal antibody therapeutics that do not follow classical mechanism of action (MOA) pathways, target-specific reporter solutions are available

In Vivo Bioassay Services

Our Shrewsbury facility can conduct in vivo bioassays for the purposes of showing efficacy and safety. These assays include adjuvant assessment, lot release potency, bacterial and viral challenge studies, and stability testing for a diverse range of products, including:

Hormone potency assays, such as FSH, FSH-LH, PMSG, and hCG (performed to either EP or USP)
Vaccines, including immunopotency, immunogenicity, antisera generation, and challenge studies (bacteria/viruses)
Neurotoxins
Allergens
Antivenoms
GMP Storage and Stability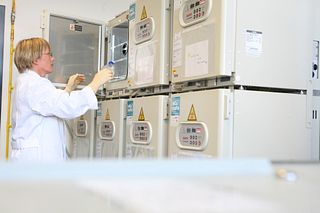 Stability studies are an essential part of product development and are conducted throughout a product's life cycle. They are required by several regulatory agencies. Our Shrewsbury site offers a comprehensive suite of storage conditions and the necessary testing required to meet regulatory requirements. Each program is defined by a customized stability study protocol based on your needs.
Maintaining the security and integrity of your cell banks is a priority. Our facilities take a multilayered approach to ensure the security and performance of the cell storage facility. These practices, coupled with appropriate custody documentation, ensure that your cell bank vials are maintained under controlled conditions.
Stability Storage Conditions

ICH conditions

-70 °C
-20 to -25 °C
2 – 8 °C
25 °C / 60% RH
40 °C / 75% RH

Custom conditions
Dedicated storage

Storage of Cell Banks

Cell banks are stored at -70 °C or in vapor-phase liquid nitrogen in a controlled-access area
Cell banks are divided and stored in multiple, validated, liquid nitrogen dewars
Cell bank retrieval and shipment occurs only at the request of an authorized client representative