Charles River joined the American Society of Cell and Gene Therapy's (ASGCT) virtual 24th Annual Meeting for four days of informative presentations aimed at advancing the knowledge, awareness, and education leading to the development of cell and gene therapies.
View our scientific posters from the event along with the industry-sponsored symposium "Accelerating and Achieving Your Cell Therapy Program Goals: A Focus on CAR T Development" featuring Charles River industry experts.
Watch the ePoster
Stereotactic Convection Enhanced Delivery Infusions Directed by Real Time MRI in NHP Models
Erik Larson, Scientist 2, SD
Session Title: Pharmacology/Toxicology Studies or Assay Development
---
Watch the ePoster
Cell Therapy Assessments in the NCG Mouse Model: Study Design and Success Factors
Simon Authier, Sr Director Sci Ops VetSvc
Session Title: Pharmacology/Toxicology Studies or Assay Development
---
Watch the ePoster
Use of Transmission Electron Microscopy and Deep Learning for Classification of AAV Capsids
Danielle L. Brown, DVM, MS, DACVP, DABT, FIATP, General Manager, Pathology Associates
Session Title: AAV Vectors - Virology and Vectorology
---
Watch the ePoster
End to End Discovery to Support the Development of Safe and Efficacious Engineered Cell Therapies
Katherine Vousden PhD, Science Director, Large Molecules
Session Title: Cancer - Targeted Gene and Cell Therapy
---
Analysis of Polymeric Excipients and Process Residuals in AAV Gene Vector Products
Andrew Hanneman, PhD
Scientific Advisor, Biologics Testing
Session Title: Vector Product Engineering, Development or Manufacturing
Download the PDF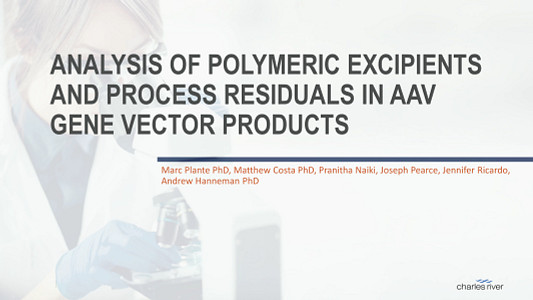 ---
Lentiviral Vector Use in Pre-Clinical Work for Gene and Cell Therapy Application
Romain Genard,
Scientist 2, IMM
Session Title: RNA Virus Vectors
Download the PDF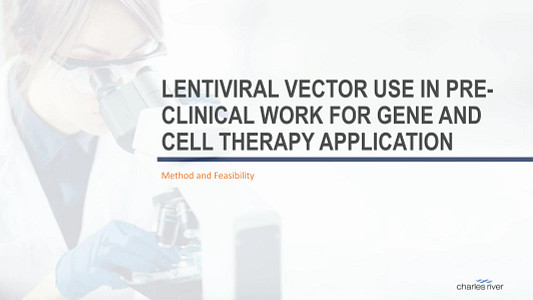 ---
Utilizing a QF-PCR Platform to Detect Replication Competent Lentivirus and Product-Related Impurities in Gene and Cell Therapy Products
Sung Ryeol Park,
Scientist 1, Methods Development
Session Title: Pharmacology/Toxicology Studies or Assay Development
Download the PDF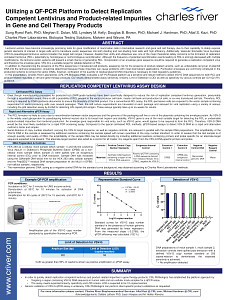 Featured Speakers
---

Dominic Clarke, PhD
Global Head of Cell Therapy
HemaCare at Charles River Laboratories
Dr. Clarke is currently the Global Head of Cell Therapy at HemaCare, a leading provider of source material for clinical development and commercial manufacturing of cell-based therapies. He previously worked at Charter Medical and BioLife Solutions.
Dominic has a PhD in cellular and molecular biology from Binghamton University and did post-doctoral work in cell and developmental biology at State University of New York Upstate Medical University. He is the current co-chair for the International Society for Cell and Gene Therapies Process and Product Development Committee.
---

Sabrina de Munnik, PhD
Senior Scientist, Biology
Charles River Laboratories
Dr. de Munnik is Senior Scientist at Charles River Laboratories in Leiden, The Netherlands. Her research focuses on efficacy and toxicity testing of novel drug therapies in human primary cell based models. Dr. de Munnik has a broad background in molecular and cellular biology. She holds a PhD in receptor pharmacology from the VU University in Amsterdam, The Netherlands.
---

Steven Miklasz, MSc, CBA
Advanced Therapy & Key Accounts Development Director
Charles River Laboratories
Steven is the Advanced Therapy and Key Account Development Director for Charles River Biologics Testing Solutions division. He is a subject matter expert for CMC for Biologics, and more recently for cell and gene therapy products. Mr. Miklasz provides guidance and support for our CGMP portfolio services directed towards expansion of new services in areas of unmet need for advanced therapies, often deriving insights from scientific client consultation, attendance at professional meetings, and close monitoring of market trends.
---

Giles Day
Site Director, Antibody Discovery South San Francisco
Distributed Bio at Charles River Laboratories
Giles graduated from the University of Manchester with BSc in Biology and MSc in Bioinformatics. From there he joined Pfizer in the UK establishing Bioinformatics as a core discipline within the drug discovery programs.
Over the next 15 years Giles held numerous leadership postions in the Pfizer informatics organization. His teams developed ground-breaking solutions for HTS, med chem and target identification. In 2007 Pfizer created a new R&D division, the Biotechnology and Bioinnovation Center (BBC) in San Francisco. Giles was appointed head of informatics for the division leading a global team that supported all aspects of the BBC, from Prof. Goodmans Blackberry to running protein-protein docking at Amazon and supporting clinical trials.
Following the Wyeth merger and disbanding of the BBC, Giles, Jake and Chris decided that this was the ideal time to create Distributed Bio and bring their wealth of experience to new partners. Chris and Giles formed Distributed Bio LLC in 2011, and incorporated to Distributed Bio Inc with Chris, Giles and Jake in 2012.
Together with our strategic partners, we're changing the way cell and gene therapies are discovered and developed.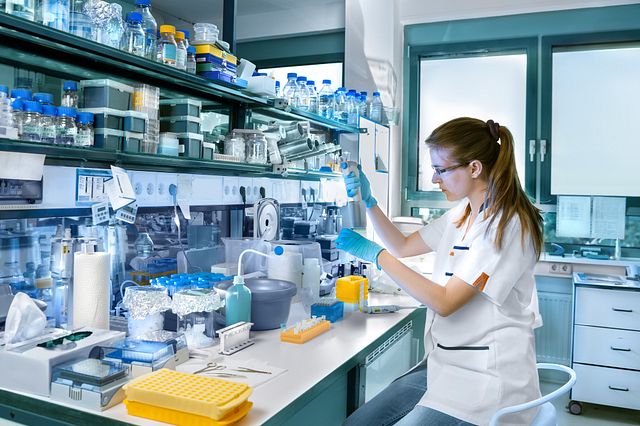 Cell and gene therapies are complex but developing them doesn't have to be. WIth unique entities, part of the challenge is not knowing the next step to take. In these educational videos, our experts describe critical considerations, key strategies, and the technologies that can make your program a success.