​
Benjamin Davies, University of Oxford
Replacement of Surgical Vasectomy and Genetically Modified Sterile Mice Through the Use of Wild-type Sterile Hybrids
Genetically modified mouse strains with a sterility phenotype require extensive breeding and genotyping procedures. Alternatively, we have explored the use of sterile male hybrids that result when two wild-type mouse subspecies interbreed.
​
Brianne Harmsen, Charles River
Submental Blood Collection in Mice
The submental route is a refined method for non-terminal blood sampling of serial collections in mice. In this presentation we compare the submental route to an industry standard, the maxillary route, also referred to as submandibular.
​
Megan R. LaFollette
Training to Improve Animal Welfare: A Longitudinal Trial of Laboratory Animal Personnel and Rat Tickling
This presentation covers common barriers to the implementation of the 3Rs, a proposed method to analyze and address these barriers, and the results of a longitudinal study comparing various methods for the specific intervention of rat tickling.
​
Anne Derbise
Bread Feeding as an Alternative Mode of Enteropathogen Oral Administration to Study Bacterial Pathogenesis
Compared with needle gavage, bread feeding constitutes a more efficient administration method which does not require specialized skills, is less traumatic for the animal, and results in diseases that more closely mimic food-borne intestinal infection.
​
David W. Brammer, University of Houston
Preparation to Prepared
Preparation requires identifying critical products and optimizing the processes and practices that guarantee the efficient, accurate, and effective delivery of those products. This presentation demonstrates the progress at an academic animal facility from chaos in 2011, to business-as-usual during the COVID-19 pandemic.
​
Patrick Gonin, Gustave Roussy Cancer Campus
COVID-19: Pandemic Preparedness in Rodent Animal Facilities
In a pandemic scenario, the proposed approach at an animal facility needs to be one of escalation through defined stages that consider the research, researchers, animal caretakers, supply chains, and logistics.
​
Matthias Rammling, Charles River at Johns Hopkins All Children's Hospital
Tools to Prepare for Remote Facility Interactions During Trying Times Such as the Ongoing COVID-19 Pandemic
This presentation introduces simple email communication tools that can be implemented to improve remote facility interactions with veterinarians and researchers during trying times such as the ongoing COVID-19 pandemic.
​
J.C. Donaho, University of Texas at Houston
Lessons Learned from the Pandemic Response (So Far)
Our emergency response plans are typically geared to local and relatively short-term events. The COVID-19 pandemic is worldwide and long lasting. This presentation explores some of the lessons learned from many months of uncertainty.
​
Lynell M. Dupepe, Tulane University
You May be More Prepared than You Think!
Shifting your focus from the type of hazard to the result of the hazard ensures effective mitigation and response to a wide range of emergencies. This presentation explores planning for multiple hazards sharing the same result.
​
Stephanie Weaver, Charles River
Emergency Action Plans: Assessing Staff Anxiety and Stress in A Crisis Situation: Where Do We Fall Short?
Our EAPs fail to detail how to comfort staff dealing with the uncertainties imposed by global crisis. Creating a supportive environment which recognizes and allows staff to express their struggles fosters resiliency.
​
Guillaume Pavlovic, PHENOMIN-ICS
Reproducibility with 16S Metagenomics
16S rRNA gene studies are widely performed, yet technically fraught. This presentation reviews current best practices for improving the reproducibility of 16S experiments.
​
Keely McGrew, Charles River
Primate Microbiome Composition and Diarrhea
This presentations details the results of a study on primates that experienced a change in social housing and were exhibiting diarrhea. Compared with their healthy counterparts, these animals exhibited significant changes in microbiome composition at the phylum, genus, and species level.
​
Joana Bom, Instituto Gulbenkian de Ciência
Implementation of a Mouse Gnotobiology Facility to Host Microbiota-related Studies
Learn why and how the IGC developed a Gnotobiology facility, and how it implemented its SOPs and developed validated procedures using the ISOcage P System for experimentation with axenic mice.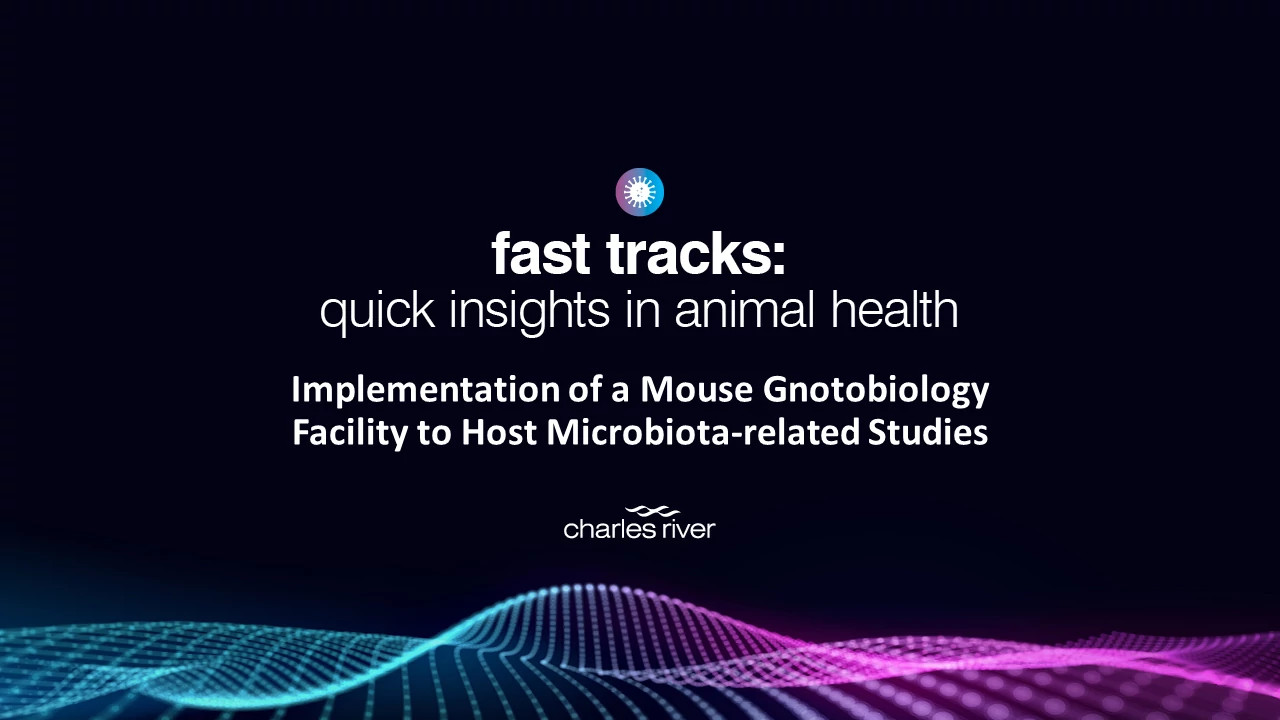 ​
Paul McAdam, Fios Genomics
Thoughtful Study Design for Microbiome Experiments
Changes in the intestinal microbiota of lab animals can lead to dramatic shifts in their phenotype. Learn about factors that have been identified to significantly influence the microbiome of lab animals, including diet, husbandry practices, and the source of the animals.
​
Denise B. Lynch, One Codex
Mouse Treatment and Microbiome Data Analysis Using One Codex
Using a publicly available mouse dataset studying fecal transplantation as a potential therapeutic for cancer, approaches to primary classifications of microbiome data, with a particular focus on classifications using One Codex are discussed.
​
Tara Cassidy, Charles River
Next Generation Sequencing Use in Animal Health Tracking
The application of Next Generation Sequencing (NGS) methods have proven to be valuable tools in the analysis of animal microbiomes. Here we look at case studies in animal raising and feed additives to highlight the potential of NGS to aid in livestock animal production.
​
Kerith Luchins, University of Chicago
Is the Juice Worth the Squeeze? Cost Efficiencies of Exhaust Air Dust (EAD) Testing
Switching from soiled bedding sentinel health monitoring to EAD was found to be 26% less expensive. Furthermore, EAD decreased the amount of time spent by the staff on heath-monitoring activities.
​
Kerith Luchins, University of Chicago
Is the Juice Worth the Squeeze? Diagnostic Outcomes of Exhaust Air Dust (EAD) Testing
Study findings suggest that EAD surveillance can reliably be implemented as an alternative to soiled bedding sentinel monitoring in a facility in which mice are housed exclusively on IVC racks.
​
Markus Brielmeier, Helmholtz Zentrum Munich
Replacing Sentinels with Alternative Methods May be an Imperative of the 3Rs
The replacement of sentinel testing by Exhaust Air Particle-PCR testing, a method which does not entail the use of animals, is a strongly advised step toward implementing the 3Rs in hygienic monitoring of IVC systems in laboratory animal facilities.
​
Bridget Clancy, University of Chicago Animal Resources Center
Identification of Ornithonyssus bacoti Infestation via an Exhaust Air Dust (EAD) Health Monitoring Program
This presentation covers the importance of screening for O. bacoti in facilities with wild rodent issues, methods of identifying the mite both molecularly and visually, and unique considerations when managing O. bacoti outbreaks.
​
Kenneth S. Henderson, Charles River
A Decade of Diagnostic Divergence to Dust – A History of the EAD Evolution and Innovations That Have Loosened Our Need for Soiled Bedding Sentinels
This presentation reviews the history of key contributions that have identified challenges to soiled bedding sentinels and the maturing EAD PCR technology and methods that have been realized and integrated into routine pathogen screening.
​
Kenneth S. Henderson, Charles River
10-Minute Tune-up on Your Rodent Pathogen Exclusion List
By answering a few basic questions, you may be able to reshape your exclusion list and improve your strategies for both keeping agents out and minimizing your internal testing.
​
Cheryl Perkins, Charles River
The Best of Both Worlds – Is a Hybrid Health Monitoring Program Right for You?
Not ready to make the switch from soiled bedding sentinel monitoring to Exhaust Air Dust just yet? Try a hybrid program. Incorporating newer PCR-based methods in a hybrid program will improve the detection of rodent pathogens without eliminating sentinel testing entirely.
​
Brian Bilecki, Allentown, LLC
Do Unicorns Exist? Apparently, Yes! A Cost Efficient, More Accurate, Easier, and More Humane Way to Monitor Colony Health
It's rare to find technology that works better, costs less, and is more humane. But that's exactly what EAD (Exhaust Air Dust) Colony Health Monitoring represents — a methodology that reduces the number of animals used while increasing the efficacy of the program and decreasing costs.
​
Tara Cassidy, Charles River
Next Generation Sequencing, a Tool for Environmental and Health Monitoring
The use of Next Generation Sequencing (NGS) has the potential to revolutionize how we look at our environments and production processes. Here we explain how NGS could be used in process control, facility mapping, and contamination tracking.
​
Rajeev K. Dhawan, Charles River
Are You Still Using Soiled Bedding Sentinels (SBS)?
Exhaust Air Dust (EAD) PCR methods have improved pathogen detection and reduced or eliminated the need for SBS monitoring, supporting the 3Rs philosophy. Not all housing systems can accommodate EAD, however, and the use of SBS may still need to be an important element of a pathogen screening program.
​
Alberto Gobbi, Cogentech
Exhaust Air Dust (EAD) Sampling Improved the Health Monitoring Program of My Facility
Learn how a 6,000-cage facility has fared over the last few years since progressively introducing EAD testing by PCR, partially replacing soiled bedding sentinel (SBS) monitoring.
​
Jonathan Koduru, Cayuse
The New Tech Foundation That's Transforming Vivarium Operations
Learn about technology that eliminates inefficiencies in procuring and managing research inventory, makes calculating and compiling billable charges easy, and enables real-time, metrics-driven electronic scheduling for facility-related tasks.
​
Matthew J. Bouchard Sr., Charles River
Are You Selecting or Building the Right Digital Solution for Your Vivarium?
Charles River Laboratories has more than a decade of experience digitally transforming vivariums. Learn how to leverage the 4 C's of vivarium transformation to ensure you have the right solution in place: Collect, Collaborate, Change, Create.
​
Guillaume Pavlovic, PHENOMIN-ICS
CRISPR/Cas9* Genome Editing: Challenges for Research Reproducibility and Clinical Safety
Genome editing tools (especially CRISPR/Cas9*) have revolutionized biomedical research. But what promise do they hold for clinical studies? We review recent work from animal and cell models that demonstrate the importance of extensive validation for the risk assessment of genome editing and its impact on cell integrity.
*CRISPR/CAS9 used under licenses to granted and pending US and international patents from The Broad Institute and ERS Genomics Limited.
​
Seiya Mizuno
Development of Genome-edited CRE Driver Mice that Can Induce Recombination in Both Male and Female Germ Cells with 100% Efficiency
We knocked-in CreERT2 downstream of the Ddx4 gene via zygote genome editing with C57BL/6J. This knock-in mouse, B6-Ddx4em1(CreERT2)Utr, underwent Cre-Lox recombination in male and female germ cells with full efficiency by administration of tamoxifen. Because of its high versatility and certainty, this new mouse will be useful not only for germ cell research, but also as a Cre deleter.
​
Shinya Ayabe, RIKEN BioResource Research Center
Multiplex Genotyping Using Machine Learning-assisted Long-read Sequencing Approach to Validate the Outcomes of Genome Editing
Recent work has uncovered that genome editing not only introduces intended mutations, but also various unexpected changes. This presentation introduces a new genotyping method with an analysis software named Determine Allele mutations and Judge Intended genotype by Nanopore sequencer (DAJIN).
​
Jenna Schoenberger, University of Chicago
The Impact of 3-D Printing on Surgery and Implants in Nonhuman Primates
Using 3-D printed devices avoids the tedious task of reshaping titanium metal in an anesthetized NHP subjected to a craniotomy, hence minimizing anesthesia duration and risk of infection. The custom fit also reduces the space between implant and skull, decreasing postoperative complications.
​
Sylvie Jacquot, CERBM-GIE IGBMC
Improving Reproducibility and Animal Welfare with Better Genotyping Practices
Transgenic rodent genotyping is slowly beginning to move from biopsy sampling to different non-invasive methods. Learn about different non-invasive sampling methods used to develop a refined and more importantly a robust method that does not increase genotyping errors.
​
Lydia Teboul, MRC Harwell Institute
Long-read Sequencing for the Validation of Alleles Produced by Genome Editing
This presentation highlights recent developments of processes for genome engineering, including a new process for robust identification of positive mosaic founders and validation of models that employs long-read sequencing.
​
Rajeev Dhawan, Charles River
COVID-Plex – A Multiplex Serology Assay for Detection of SARS-CoV2 Antibodies in Lab Animals
Studies confirm that COVID-Plex, a blood-based test using serum/plasma is sensitive and specific for screening of COVID-19 (SARS-CoV2) antibodies in lab animals. Furthermore, COVID-Plex can be performed in a high throughput format while screening for other infectious SPF agents using the same sample.
​
Cheryl Perkins, Charles River
What's at Risk? Screening Research Biologics for Infectious Pathogens
Biologic materials such as PDX, cell lines, antibodies, proteins, etc. can be unknowingly contaminated with adventitious viruses or other pathogens. This presentation covers the use of semi-quantitative PCR technology to screen for infectious pathogens in these and other biologic materials.