Safety and Efficacy Models from a Dedicated Medical Device CRO
Charles River's two state-of-the-art facilities in North America fully support your cardiovascular, orthopedic, and other preclinical medical device testing programs. Our comprehensive portfolio of services includes imaging modalities and diverse histological endpoints that are quantitatively assessed using manual and software-guided automated histomorphometry. Our staff features dedicated veterinary pathologists who can perform a full histopathological analysis and create resulting quantitative reports.
Cardiovascular Models for Medical Devices
Accelerate your development of cardiovascular therapies and medical devices with specialized models from Charles River.
Trust the expert guidance of our veterinary cardiologist and a team of study directors and veterinary pathologists seasoned in the conduct of sophisticated cardiovascular studies.
Cardiovascular Models for Medical Devices Product Sheet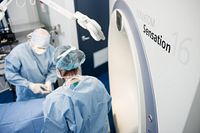 Need support for your cardiovascular medical device testing program?
---
Orthopedic Models for Medical Devices
Charles River provides evaluation services for orthopedic medical devices and biologics from the proof-of-concept to regulatory testing under GLP. State-of-the-art imaging modalities include in life computer tomography imaging (CT-scan), magnetic resonance imaging (MRI), as well as terminal digital and high-definition radiography (Faxitron™), and micro-computed tomography (Micro-CT). Following routine and non-decalcified histology with microgrinding, diverse histological endpoints are quantitatively assessed using manual and software-guided automated histomorphometry.
A full histopathological analysis and quantitative report is provided by experienced veterinary pathologists. In addition, biomechanical testing can be performed in parallel on designated explants and healing sites.
Orthopedic Models for Medical Devices Product Sheet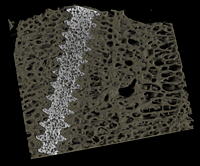 Need support for your orthopedic medical device testing program?
---
Additional Medical Device Testing Models
ENT: sinus implants drug delivery | bioresorbable stent
Ocular: enucleation, evisceration | orbital implants
Dermatology:

subcutaneous | dermal filler
wound healing | hydrogel and wound dressing

CNS: shunts
Gastroenterology:

colon stents
intestinal clips

Regenerative medicine: Charles River offers a variety of animal models for in vivo evaluation of growth factor therapy, tissue engineering, and cell therapy. 
Frequently Asked Questions (FAQs) for Preclinical Medical Device Testing:
What is a medical device?

A medical device is any instrument, apparatus, implement, machine, appliance, implant, in vitro reagent or calibrator, software, material, or related article intended by the manufacturer to be used in human beings, alone or in combination, for one or more of the specific purpose(s): diagnosis, prevention, monitoring, treatment or alleviation of disease or an injury, investigation, replacement, modification, or support of the anatomy or of a physiological process, supporting or sustaining life, or control of conception.

How can a medical device CRO improve my preclinical medical device study plan?

Every device is different, and there is no "one size fits all" study plan. Having seen a vast array of medical device types under development, the multidisciplinary team of experts at Charles River uses their deep understanding of efficacy, safety, and regulatory guidelines to develop an appropriate testing strategy to suit the needs of your device. Our unique combination of regulatory expertise with medical devices and comprehensive portfolio of services allows us to create a tailored plan to carry you from the earliest stages of study design to GLP assessments, so you can get you to market faster.

How is Charles River different from other preclinical medical device testing CROs?

Meeting the needs of patients with cardiovascular, orthopedic, dermatology, oncology & immuno-oncology, endocrinology, neuroscience, ophthalmology conditions and more, medical devices serve numerous therapeutic areas. As a global CRO with over 2,000 scientists, Charles River has experts in every field who partner with our dedicated medical devices team to create study designs tailored to your device.