Featured Story
Perspectives on Accelerating COVID Vaccine Development
With the race to develop safe, effective protection against the novel coronavirus (COVID-19), regulatory authorities have sought to clarify both the specific considerations for the SARS-CoV-2 target and the responsible approach to accelerated development. In the United States, the FDA's recent pandemic-specific guideline is very much aligned with existing vaccine development practices and serves as a clear, accessible reference for vaccine developers.
---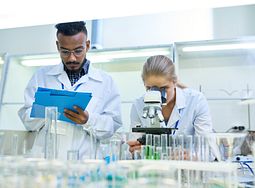 Need help sorting through regulatory requirements or testing support for your vaccine development program?
---
The guidance educates those who are new or unfamiliar with vaccine development on the potential enhanced disease risk of COVID-19, with specific mention of enhanced respiratory disease (ERD). In this discussion, the authors clearly define the target and demonstrate the gravity with which the FDA considers related approvals. Recently, Charles River's Senior Principal Scientific Advisor, Sarah Gould and Senior Director of Scientific Advisory Services, Pete Gaskin spent some time reading through the document in order to share key takeaways with clients.
Streamlining Testing Requirements
"Vaccine and drug development are step-by-step processes," says Dr. Gould, one of Charles River's resident vaccine experts. "What you need to evaluate may depend on the stage in terms of clinical trial," she explains, citing the example of challenge studies. "The FDA indicates that immunogenicity data demonstrating high neutralizing antibody titers and Th1-type T cell polarization is likely to be sufficient to proceed to FIH trials without first completing post-vaccination challenge studies at this stage.
This strategy will and has enabled vaccine candidates to move quickly to Phase I trials. The challenge studies may then be run in parallel with FIH before enrolling large numbers of subjects in clinical trials." Safety remains a key priority and to enter larger scale clinical trials, there is an expectation that certain key investigations will have been completed, including the challenge studies and consideration of enhanced disease.
Leveraging What Is Known
Holistically, the guidance aims to reduce the barriers to progress. "The document emphasizes the use of existing data and technologies as a means of accelerating the vaccine development process," explains Dr. Gaskin. "While new vaccines are subject to the same expectations for safety and quality, how manufacturers derive that information may be based on existing products."
Several of the FDA suggestions may be a boon to current vaccine hunters as they assemble their quality data package. Specifically, some of the information on manufacture and control (CMC) for a COVID-19 vaccine may not be required if the Sponsor can rely on data from other vaccines that use the same platform. In addition, a vaccine's final validation of formulation and filling operations may be completed after final product approval, if the impact on quality is not compromised.
If adequately justified, stability testing for marketing approval may also be reduced with a commitment to provide post-marketing data. Gaskin suggests that by taking this approach, the FDA has ensured that the guidance enables increased speed in vaccine development while posing a minimal risk to the public.
How can we support your program?