Featured Story
Digital Pathology is Here
As members of the research community, we appreciate the critical importance of your work and will continue to do whatever is possible to keep your programs moving forward. Our recent partnership with Deciphex allows us to increase the speed and efficiency of pathology assessments, rapidly delivering the data you need to progress.
 
---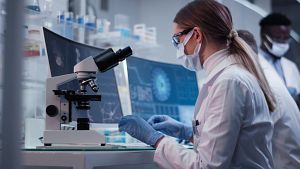 GLP-Validated Peer Review: The Next Step in Digital Pathology
Advances in computing power, whole slide scanners, and digital-based machine learning are helping pathologists "go digital" and optimize their workflow across teams and geographies. How does this approach apply for studies in need of a digital pathology peer review that is GLP-validated?
Find Out
---
See what Patholytix can do for you
Deploying Patholytix Preclincial
Patholytix Preclinical, Deciphex's flagship product, is an industry-recognized technology for developing a streamlined primary diagnosis and peer review workflow that empowers pathologists to generate and communicate results much faster than possible with traditional processes or stand-alone digital pathology software.
Now in Charles River labs, Patholytix Preclinical is powering digital pathology investigations through an exclusive partnership with the software's creator. No matter your stage of development, your studies will now benefit from maximum productivity and even faster data delivery when it comes to pathology studies. As a global leader in preclinical digital pathology software, Deciphex was keen to collaborate with an organization that shared their goals of streamlining and accelerating drug discovery and development. "Charles River offers the most robust preclinical pathology program in the industry. By partnering with their team, our technology will have an incredible opportunity to positively influence the outcome of a significant component of the industry's preclinical pathological samples," said Donal O'Shea, Founder and CEO at Deciphex.
The Patholytix Preclinical platform indeed fits well into Charles River's portfolio of integrated discovery and development solutions. Tapping into Charles River's depth of experience in general and specialized pathology, the partnership entails operationalizing a state-of-the-art digital peer review platform and the co-development of deep learning-enabled tools to support accelerated pathology analytics, giving clients access to the most advanced tools to evaluate, formalize, and share pathology results for improved discovery and development. According to Birgit Girshick, Charles River's CEVP of Discovery & Safety Assessment, the Deciphex platform will further empower our industry-leading pathologists with tools to increase their efficiency and productivity, "while providing valuable insights to clients earlier in the analysis phase," she said.
AI-Powered Pathology
Whether you're chasing discoveries or completing a standard IND-enabling package, nothing can replace the insight of an experienced pathologist to interpret the physical evidence of your drug's impact. But what if there was a way to further enhance the pathologist's skill, expand their capabilities, and accelerate the delivery of decision-driving data?
Harnessing the power of artificial intelligence and enabling virtual primary diagnostics and peer review, digital pathology is achieving just that. As a platform, the computer technology streamlines workload and promotes data sharing for peer review to create real efficiencies in a pathologist's daily routines. As a diagnostic solution, digital pathology leverages the knowledge of seasoned professionals who create and establish the algorithms that automate and accelerate complex analytical tasks. It sounds futuristic, but the reality is now.
---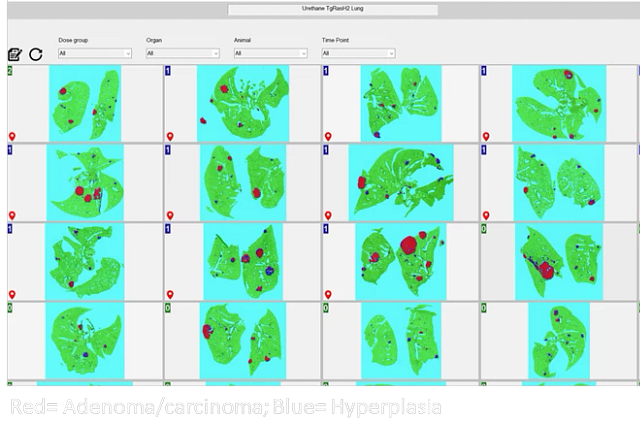 Productivity Gains through Deep Learning AI applications
Dr. Dan Rudmann on the use of deep learning artificial intelligence algorithms to verify proliferative changes in the positive control groups within the Tg-rasH2 mouse carcinogenicity studies.
---