Featured Story
More Capacity and Flexibility? Yes, Please
In response to the demand for exquisite science, advanced technologies, and the ability to solve your toughest development challenges, we continue to grow. Whether through acquisitions that add to our footprint and portfolio, or physical expansion of our existing facilities, we are dedicated to enhancing capacity and delivering exceptional service when and where you need it. This strategic growth is helping us to execute studies with greater efficiency and accelerate the path to approvals for clients all over the world. Most recently, we've grown two of our key North American safety assessment facilities.
Sherbrooke, Quebec

In the past several months, we've nearly doubled the size of our Sherbrooke facility. In addition to a new surgical suite and necropsy room, we've built out 12 additional animal rooms and significantly expanded the immunology laboratory. To match the greater capacity, we've increased scientific personnel at the site by 20%, with more hires planned by the end of this year.

Through the reorganization of space and changes to the facility, Sherbrooke's dedicated staff has ensured uninterrupted, efficient execution of all studies and operations, a testament to their mission to put clients first.

See Sherbrooke up close. Log into The Source℠ to take a virtual tour of our facility

Reno, Nevada

Our Reno facility completed a 25,000 square foot expansion in May of 2020. The changes increased the site's vivarium footprint by 20%, with 24 additional animal rooms. Designed to be cross-functional, the multi-species rooms offer the greatest flexibility for quick study starts. Corresponding with our animal capacity, we've expanded the site's pathology and laboratory sciences capabilities and implemented further automation. The Reno site achieved CLIA certification in August 2020, allowing for enhanced laboratory diagnostic capabilities.

See Reno up close. Log into The Source℠ to take a virtual tour of our facility
Safety Assessment Services and Facilities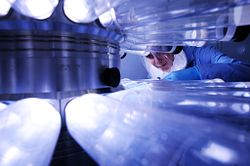 Learn more about all of our safety assessment services and the sites at which they are offered.
---
Our Growth = Your Success
When you outsource your program to Charles River, you can expect fast, flexible study starts and robust data that satisfies regulations. Our continual investment in facilities, technology, and talent means you have access to valuable resources without having to bring them in-house, saving you time and money on the path to market.