Featured Story
Regulatory Perspectives for Vaccine Development
To support the advancement of a COVID-19 vaccine, the International Coalition of Medicines Regulatory Authorities held a virtual meeting on March 18, 2020. It was co-chaired by the European Medicines Agency (EMA) and the U.S. Food and Drug Administration (FDA). The World Health Organization (WHO) and European Comission were among the 20 regulatory agencies in attendance. Their focus was on first-in-human (FIH) clinical trials and how to proceed quickly, without compromising safety.
---
Accelerate Your Vaccine Development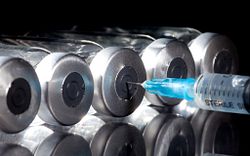 Our network of experts can support the development of your vaccine and ensure it's the safest, most effective version.
---
Participants agreed it would be necessary to characterize the immune response in animal studies and include the necessary safety product studies involved in characterizing the chemistry manufacturing and controls before entering a FIH clinical trial. They agreed, at this point in product/vaccine development, it would not be necessary to have demonstrated vaccine efficacy in animal challenge models.
For other preclinical data, such as toxicology studies, companies must provide a suitable rationale to explain why they could proceed without them. There was a general agreement that available information from a previously established platform technology, including repeat dose toxicity studies, biodistribution studies, and/or clinical data, could be used as adequate scientific rationale and to support a FIH clinical trial. This would be, as stressed by the regulators, conditional upon adequate risk mitigation strategies. Otherwise, at minimum, a toxicology study would be required, following the principles of WHO, 2005, 2013 guidelines.
For some vaccines, such as a novel platform or adjuvant, toxicology data would likely be required prior to advancing to FIH clinical trials. In addition, developers may consider, as appropriate, tests that could be performed in parallel to Phase I testing, in preparation for Phase II and III.
The ICMRA discussed the potential for vaccine-induced disease enhancement and, although agreement wasn't unanimous, they agreed that FIH clinical trials would be allowed to proceed without the vaccine-induced disease enhancement studies. However, such data could be expected prior to enrolling large numbers of human subjects into Phase II and III trials. In addition, to support the inclusion of women of child bearing potential, reproductive and developmental studies will also need to be considered. Lastly, the ICMRA also agreed on the need for mechanisms to be shared with each other, as well as the outcomes from animal models and clinical trials in an ongoing and timely manner.
Our team is also available to answer any questions you may have about your vaccine program.