Featured Story
Reliable Data at Warp Speed
To help increase value to your research and development, we have installed and validated the Gyrolab® xPand automated immunoassay platform across our sites in North America and Europe. From discovery and preclinical R&D to regulated bioanalysis, Gyrolab® xPand significantly reduces the time needed to develop assays required for manual methods, increasing throughput efficiently and reliably.
The rollout of the Gyrolab® xPand systems provides enhanced automation and high throughput sample analysis, able to produce 112 data points in 60 minutes. This is a greater than 5-fold increase over traditional immunoassay formats and has shown to reduce project timelines by up to 40%. The automated nature of the system means reduced assay variability, improved assay pass rates, and faster method development, boosting efficiency and maximizing productivity.
---
Nonclinical and Clinical Bioanalytical Assay Requirements for Biosimilar Drug Development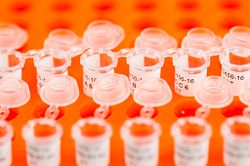 This webinar highlights strategies that can be used to develop and validate bioanalytical assays to support nonclinical and clinical studies.
---
Further, the platform's flexibility means multiple samples can be run simultaneously either with the same assays or a mix-and-match between assays on the same run. These attributes provide clients the highest quality data in the timeliest manner. Reliable results within the hour means significant potential to speed up the process of the discovery and development of new biotherapeutics, allowing you to reach the market faster.
The Gyrolab® xPand platform requires lower sample volumes than traditional immunoassays, reducing the quantity of reference test items needed. In addition to being a significant cost and time saver, the lower volume requirements and improved reproducibility reaffirm our commitment to the 3Rs by needing less invasive sampling techniques and opportunities to reduce the number of animals used for toxicology studies.
By installing these systems across our facilities, we are able to provide a common platform that will facilitate assay transfer and method establishment between Charles River sites.