げっ歯類またはヒト由来の研究用生物製剤のスクリーニング
調査手順の一貫として、げっ歯類またはヒト由来の研究用生物製剤のスクリーニングが実験動物に行われることがよくあります。生物製剤に感染病原体が含まれておらず、適切な宿主種に由来したものであることを確認するのに、予防スクリーニングの実施が必要なためです。
げっ歯類とヒトの感染病原体
種間汚染用のCLEAR
細胞株の試験および報告(CLEAR)PCRパネルを使用して、細胞株の認証を行っております。
種間汚染の0.5%未満を検出いたします。分化できる細胞には、マウス、ラット、チャイニーズハムスター、ゴールデンハムスター、ヒトおよび非ヒト霊長類(NHP)種に由来する細胞が含まれます。
PCRテクノロジー
TaqMan® PCRテクノロジーを使用して実行されるアッセイ
げっ歯類パネルはOpenArray®プラットフォームで実行されます
すべての試験は研究目的でのみ非GLPで行われます
一般的にスクリーニングされる生物製剤
細胞株―初代および連続継代性
基底膜マトリックスタンパク質などの細胞株製品
フィーダー細胞(脾細胞、胸腺細胞など)
腹水
精製抗体
​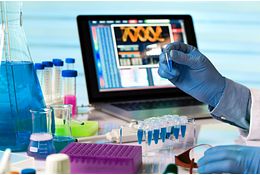 Make Your Sample Submission Easier
By using our Laboratory Testing Management® (LTM™) software, you can streamline the submission of your samples, track them, and report results all in one convenient place.
Cell line screening is just one of the services we offer as part of our diverse portfolio. Check out our catalog to discover some of the other ways we can optimize your animal research.

Frequently Asked Questions (FAQs) about Cell Line Screening for Research Biologics 
How can I submit my samples to Charles River?

Laboratory Testing Management® (LTM™) allows customers to generate submission forms electronically, as well as schedule samples, including those for cell line screening, for submission. Complimentary sample shipping supplies are available for all of our research animal diagnostic services. By using LTM™ Ship, customers receive free shipping on diagnostic and genetic testing samples (excluding live animals in the continental U.S.).

What are research animal diagnostic services?

Charles River's research animal diagnostic services program is built on a foundation of contamination prevention measures, effective pathogen detection, and scientific and technical proficiency to help vivarium managers design and maintain a clean and secure facility.

What is CLEAR for cell line screening?

Our CLEAR (cell line examination and report) PCR Panels are performed non-GLP, as this cell line testing service is available for research purposes only. Once you are ready to submit samples, visit LTM™ to create your order online.