Preclinical and Clinical Assays
Through our unique position as a leading provider of nonclinical and clinical analytics, our scientists are experts at assay life cycle management. This ensures that assays and testing paradigms applicable in nonclinical research are appropriately transitioned to the clinical phase, eliminating the need for costly and often difficult method transfer between laboratories.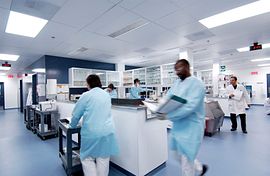 See What Saint Nazaire Can Do for You
Located just outside of Nantes, France, our Saint-Nazaire site can perform small and large molecules and biomarkers bioanalysis to support clinical and nonclinical studies (discovery up to Phase III/IV clinical trials).
See Our Capabilities
From small to large molecules, and at any phase in development, Saint-Nazaire has the tools required to quantify and characterize drugs and metabolites in various animal and human biological matrices (e.g., plasma, whole blood, urine, excreta, bile, tears, CSF, tissues, etc.).
Large Molecules
For large molecules, bioanalysis assays are run by immunoassay or liquid chromatography-mass spectrometry (LC-MS/MS).
By Immunoassay
More than 30 ligand-binding assays using several techniques (ELISA, ECLIA, RIA, etc.) are developed each year to identify peptides, proteins, monoclonal and multifunctional antibodies, biosimilars/biobetters, or antibody-drug conjugates (ADC) in several matrices. Our 12 scientists will make sure they find a fit-for-purpose technique suited for your bioanalysis project(s).
The team at Saint-Nazaire has conducted more than 60 studies annually and analyzed more than 20,000 samples per year, so we have the capacity to take on your project and get the crucial data you need to make more confident go/no-go decisions.
By LC-MS/MS
The use of LC-MS/MS allows a fast development of robust and specific assays for the quantification of multiple large molecules such as peptides, proteins, monoclonal antibodies, ADC (for the antibody and the conjugate part), or oligonucleotides. The characterization of modifications, metabolites, peptide mapping is also possible for all biologics.
Our experienced team can prepare fit-for-purpose sample preparations including enzymatic digestion (e.g., trypsin) with or without immuno/affinity capture, as well as measurement in intact mode using LC-MS and HR-MS (High-resolution mass spectrometry).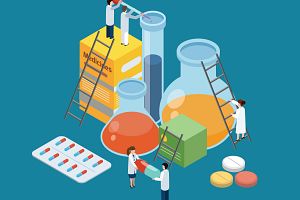 Development and Validation of a Method by LC-MS/MS for Non-Clinical and Clinical Studies
Developing generic methods for the quantification of therapeutic antibodies by mass spectrometry in multiple matrices, with one therapeutic antibody, Pembrolizumab, an anti-PD1 compound.
Download the poster
Small Molecules
For your small molecule development, it is important to run the most sensitive and robust assays available. The following equipment allows us to reach those key points for analysis of active compounds and metabolites in various biological matrices (plasma, urine, tissues…):
• Automated and fit-for-purpose sample preparation (Protein crash, LLE, SPE…)
• Last generation LC-MS/MS (ABSciex API6500)
• High resolution mass spectrometry (HR-MS, Q-ToF)
• GC/MS
With more than 50 validations conducted and a capacity of more than 100,000 samples analyzed annually, Saint-Nazaire is ready to take on your bioanalytics testing.
With multiple platforms available to provide support to toxicology findings or PD readouts from preclinical to clinical samples (e.g., ELISA, ECLA®, chromatography (liquid/mass), RIA, ImmunoCAP [Phadia], LC-MS, HR-MS), Saint-Nazaire will be able to identify your soluble biomarkers (in single and MultiPlex) for cytokines/chemokines, hormones, immunoglobulins, complement factors, injury markers (bone, cardiac, kidney, etc.), and more.
Find the Right Biomarker for Your Project
Our biomarker database can help you ease the burden of finding the right one(s) for your project. Browse this interactive tool by therapeutic area, toxicological indication, and species, or enter in your search criteria to find what you need. Explore Our Database
Saint-Nazaire can determine the presence of antibodies generated against the drug at all stages of the development process. The different steps that can be run after the development and validation of controls from screening assay to neutralizing assay are shown below.
Our team analyzes over 9,000 samples annually and conducts more than 40 studies, from simple screening to titration and neutralizing steps.
Meet the Team
Elodie Pedron, Ing. | Group Leader Immunochemistry
Elodie is the Head of the Immunochemistry department at St Nazaire, where she manages teams' experts in the development and validation of methods for the detection/quantification of test items (large molecules), biomarkers, anti-drug antibodies (ADA), and neutralizing antibodies (Nab) using different techniques including ELISA, electrochemiluminescence, and cell-based assays. She is graduated from the INSA engineer school and has previously acquired experience in bioanalysis from big pharma (Sanofi Pasteur, Lyon) and biotech companies (APCure, Lyon). Elodie has previously served at Atlanbio as a study manager and then Team Leader for 7 years before the company was acquired by Charles River.
---
Jordane Biarc, PhD | Team Leader Chromatography
Jordane has more than 15 years of experience in biomarker and drug quantitation in academic research and CRO industries where she has developed tools and methods for the analysis of large molecules by mass spectrometry. She obtained her PhD in Cellular and Molecular Pharmacology at Louis Pasteur University in Strasbourg, France before consolidating her expertise at the University of California-San Francisco, US and the Institute of Analytical Sciences Lyon, France. In her current role, Jordane is leading the team in charge of the implementation and analysis of large molecules by LC-MS as well as HR-MS (high-resolution mass spectrometry) in CR-STN.
---
Laurent Turbe, MsC | Associate Director Chromatography
Laurent is the head of the chromatography department at the St Nazaire, France site of Charles River, where he manages teams of experts in bioanalysis of small and large molecules by LC-MS/MS. He graduated from the University Paris XI-Orsay (France) with a master's degree in instrumentation and analytical chemistry. Laurent previously served at Atlanbio as a team leader and study manager in bioanalysis for more than 12 years before the company was acquired by Charles River.
---
Frequently Asked Questions (FAQs) About St Nazaire Facility on Bioanalysis, Biomarker & Immunogenicity