Chicken serum antibodies to Influenza A/PR/8/34 and Sendai Cantell are readily available. These are prepared in our SPF chickens raised under strict biosecurity and HEPA-filtered air under positive pressure (FAPP) rooms.
Human Influenza Type A and B Strains
Influenza A/PR/8/34 (H1N1)
Influenza A X-31, A/Aichi/68 (H3N2)
Influenza A/Victoria/3/75 (H3N2)
Influenza A/Hong Kong/8/68 (H3N2)
Influenza B/Lee/40
Customer-Supplied Virus
---
Influenza Virus Preparations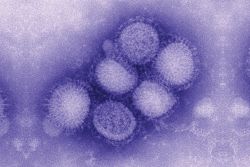 We provide expert support to help propagate and process influenza strains for your research or diagnostic kit production.
---
Sendai Virus (Cantell Strain)
The original virus was obtained from American Type Culture Collection (ATCC), product code VR-907, identified as Parainfluenza 1, Sendai/Cantell strain. It was passaged several times by inoculating the virus into the chorioallantoic sac of 9 to 11 day-old embryonated SPF chicken eggs. Virus is supplied as sterile, clarified allantoic fluid at a minimum titer of 2000 HA units/ml, or purified to 2 mg/ml.