Bioactivity & Potency Assays
Potency testing is necessary to ensure the quality, safety, and efficacy of biopharmaceutical products, as well as the confirmation of biocomparability between an innovator and biosimilar product. Our full range of potency testing services for a variety of biologics includes both in vivo and in vitro bioassays.
Potency testing and bioassay development services:
Method development, transfer, and optimization
Phase-appropriate method validation
Lot release testing for drug substance and drug product 
Accelerated stress studies 
Comparability testing between innovator and biosimilar biological products
---
Webinar: Potency Assay for Vaccines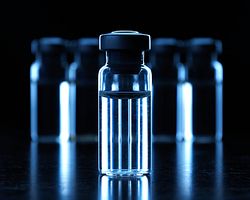 Developing and validating a biological assay and establishing its potency for a vaccine can be challenging for manufacturers. Learn how you can implement these assays.  View Webinar
---
Genetically Modified Microorganisms (GMM) in Cell and Gene Therapy 
With the growth of gene and cell therapies, advances in the development and validation of suitable in vivo and in vitro assays have become necessary in order to test the efficacy, safety, and ultimately the potency of these products. We're experienced in genetically modified microorganisms (GMM), which are essential in this area. GMMs are used to produce medicines and vaccines that treat or prevent diseases.
Here are some applications: 
Genetically modified bacteria were the first organisms to be modified in the laboratory due to their simple genetics, and are particularly important in producing large amounts of pure human proteins for use in medicine.
Genetically modified viruses can be used to deliver genes that can cure diseases in humans. 
In addition, our transgenic mouse models provide researchers with high-quality, validated research models for gene research and drug development.
Frequently Asked Questions (FAQs) About Potency Testing