Cell Bank Production & Storage
For more than 20 years, Charles River has successfully produced more than 1,000 cell banks for clients, including ones used for the manufacture of commercially available therapeutics. Our cGMP-compliant cell bank production assures a uniform population of cells are preserved and a sufficient supply of material is readily available for the life of the product. In conjunction with our cell banking and vaccine production services, we offer more than 10 years of experience with long-term storage of clients' banks.

Cell Banking

Mammalian, Insect, and Stem Cells
Our cell banking team is capable of producing up to a 1,000-vial cell bank in cGMP-compliant suites. To provide clients with the best timelines, we have multiple cell banking suites available for manufacture. Standard release criteria of viability and sterility are provided, and full characterization and biosafety capabilities are also available for further regulatory-based testing of the client's cell bank.
 
Microbial Cell Banking
Our microbial cell banking team has a wealth of experience in manufacturing E. coli, yeast, and other aerobic and anaerobic microbial cell banks to the highest standards. As with our mammalian cell banks, microbial cell banking services are conducted under appropriate, controlled conditions. We have dedicated, fully-equipped CGMP-compliant suites with the capability to produce up to an 800-vial cell bank.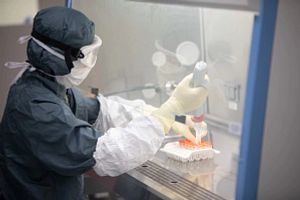 Webinar - Start Off Strong: Cell Bank Manufacturing
View this webinar to learn about choosing reagents and scaling concerns to creating a homogenous cell bank. Related topics including documentation, best practices, and necessary compliance controls of cell bank manufacturing are also discussed.

Cell Banking Support
We offer many support services to expedite the receipt of cell seed stocks and production of cell banks. It is our top priority to make sure clients are constantly informed throughout the manufacturing process.
Our team of experts is able to offer assistance with import permits and provide appropriate shipping vessels.
After the seed stock arrives, our project management team will guide you through the manufacturing process, from pre-seed testing and generation of the manufacturing batch record through the manufacture, release, and characterization testing of the cell bank.

Storage, Retrieval, & Shipment of Cell Banks
Maintaining the security and integrity of our clients' cell banks is a priority. A multilayered approach is taken to ensure the security and performance of the cell storage facility. These practices, coupled with appropriate custody documentation, ensure that your cell bank vials are maintained under controlled conditions.
 
Storage of Cell Banks
Cell banks are stored at -70 °C or in vapor-phase liquid nitrogen in a controlled-access area.
Cell banks are divided and stored in multiple, validated, liquid nitrogen dewars.
Separate dewars are maintained for quarantined (untested) and released materials.
Once in storage, vial locations are identified, and unique identification numbers for each bank are provided to enable complete confidentiality and expeditious vial retrieval.

Cell Bank Retrieval & Shipment
Cell bank retrieval and shipment occurs only at the request of an authorized client representative.
Vials of a cell bank are removed from storage and transferred to an appropriate shipping container with a recording device that documents the temperature for the duration of the shipment.
All vapor-phase liquid nitrogen shipments are shipped in a qualified dewar.
 
Map Out Your Cell Bank
 Use our cell bank timeline generator to plan your research cell bank submission so your bank is released when you need it.

Frequently Asked Questions (FAQs) for Cell Banking