Shorten Timelines With Antibody Drug Discovery Technologies
Don't waste time in translation or dealing with poor attributes. The right therapeutic-ready single chain antibody discovery library rapidly delivers human antibody hits right out of the gate. They are unparalleled in their developability, enabling the fastest route to the clinic.
Cosmic Antibody Library for Exclusive Leads
The Cosmic antibody library is our largest library of fully human CDRs with high rates of diversity, thermostability and non-immunogenicity. A gatekeeping process ensures clients are guaranteed 50 exclusive and unique lead molecules, eliminating the risk of first-to-file. With 100 billion unique full-human antibodies, the Cosmic antibody library offers a range of affinities against every target and the diversity required to hit hard targets. Developability is enhanced through rigorous engineering control and inclusion of validated scaffolds.
SuperHuman Antibody Library for Antibody Discovery
Therapeutic candidate antibodies against challenging targets are difficult to find, and most antibody leads need multi-parameter optimization. Leverage 10 years of progress in computational optimization of antibody drug discovery libraries with our proprietary SuperHuman single chain scFv antibody library. Watch our recent webinar to learn how this library, in conjunction with the Tumbler optimization technology, was used to identify potent, novel therapeutics that bind tightly to and block SARS-CoV-2.
The result is key engineering guidance and optimization of every hit right out of this synthetic antibody library. When compared with mouse immunization, our proprietary SuperHuman phage display library enables rapid scFv and VHH antibody discovery.
Successful ID of therapeutic antibodies against COVID-19
The SuperHuman antibody library and the Tumbler optimization technology identified antibodies shown by independent labs to completely block the novel coronavirus from infecting human cells.
Compile, Analyze, and Optimize Antibodies with Tumbler
Artificial intelligence-based Tumbler technology provides a method for rapidly generating over 500 million versions of an input antibody in order to affinity mature, thermostabilize, deimmunize, species-cross react, biochemical liability remove, humanize, pH sensitize, or otherwise engineer an input antibody.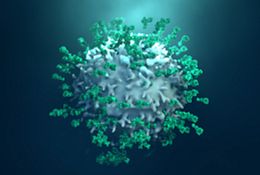 In 1986, the US FDA approved the first mAb to limit organ transplant rejection. Follow the journey, where next generation antibody discovery technologies contribute to therapeutic or diagnostic mAbs now approved.
End-to-end Platform for Therapeutic Antibody Discovery and Development
This antibody discovery platform technology creates a unique end-to-end platform for therapeutic antibody programs. Learn more about the integrated target to clinic portfolio:
In vitro biology
Antibody production
Contact an Antibody Discovery Specialist
Frequently Asked Questions (FAQs) About Antibody Discovery and Antibody Engineering
Why is specificity important in antibody discovery?

Specificity, or dangerous and problematic off-target effects against a different gene product than the intended target, is particularly problematic for CAR-T and pMHC-targeting antibodies. The SuperHuman antibody library screening technology addresses specificity by:

Incorporating an immense library with up-front deselection against other off-target molecules
Building the library from fully human complementarity-determining regions (CDRs) that have already been pre-filtered by the human body
Using high-throughput sequencing of hundreds of millions of antibody reads from multiple panning programs, ensuring antibodies against a given target have not enriched against any other target

Learn more about specificity in this Nature article.

Does this antibody engineering platform have success with challenging target classes such as GPCRs?

For antibody hit discovery programs against difficult targets, such as G-protein-coupled receptors (GPCRs), anti-idiotype antibodies, pMHC-complex-targeting antibodies, and challenging epitopes on targets like PD1, we can help. This antibody discovery platform successfully panned recombinant antibody (rAb) hits against the class A GPCR CXCR5 and has optimized hits against another (undisclosed) GPCRs. There is no longer a need to go to nonhuman antibodies to target GPCRs.

Does Charles River offer antibody discovery services beyond biopanning and optimization?