Phage Antibody Library for Antibody Discovery
Antibody engineering advances have allowed for the fastest, most diverse, and optimized discovery. When compared with mouse immunization, our proprietary SuperHuman phage display library enables rapid scFv and VHH discovery.
Phage Display of the Future
Traditional phage display biopanning, along with approaches that have been around for a long time such as transgenic and hybridoma, are not ideal because they result in less hits in a greater amount of time. Today's newer approaches mean it's not necessary to spend time and resources on humanization, sequencing, optimization.
The SuperHuman synthetic antibody library technology for antibody discovery delivers more monoclonal antibody hits in less lead discovery and development time than hybridoma, traditional phage and transgenic methods. Charles River offers this discovery platform to discover humanized antibodies against any target of interest including GPCRs and CARs.
Diversity to Hit Hard Targets
The SuperHuman fully human phage display antibody library is comprised of 76 billion unique fully human antibodies with the diversity to deliver therapeutic leads in discovery against the hardest targets, including GPCRs, ion channels, pMHC complexes, anti-HIV bnAbs, allosteric modulators, mouse/human cross-reactive epitopes, anti-idiotypics, and bi-epitopics. Leads are perfect for IgGs, CAR-Ts, bi-specifics, ADCs, and nanobody applications.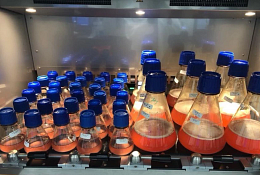 Successful ID of therapeutic antibodies against COVID-19
The SuperHuman antibody library and the Tumbler optimization technology identified antibodies shown by independent labs to completely block the novel coronavirus from infecting human cells.
Pre-Optimize Hits Now, Save Time and Money Later
While the CDR-H3 and V-gene frameworks define much of a clone's interaction with the target, variations in the other CDRs can impact affinity and breadth of reactivity. This human antibody library was designed with about five billion CDR-H3s but 76 billion total antibodies. The result is key engineering guidance and optimization of every hit right out of the synthetic antibody library.
Watch this animated video to see how a client first panned yeast display, then phage display, and finally mice models with no promising results. The client eventually found success using the SuperHuman library.
Optimized for Truly Unique Therapeutic Candidates
Delivered clones from this antibody library will represent truly unique lead candidates. CDRH3s on confirmed binders for the last 20 programs were on average 9.7 amino acids apart from each other, all of which yielded over 50 lead candidates.
Platform is Fit for All Target Classes
The SuperHuman antibody library is suited for all target classes including ion channels, GPCRs, anti-ids, HIV, allosterics, and anti-pMHCs but is especially well-suited for CARs. The library allows for the function, safety risks, efficacy, and speed uniquely specified for CAR-T applications. Read this BioPharma Reporter article describing how our antibody discovery platform and downstream capabilities identifies the most viable therapeutic antibody candidate.
Considerations of an Antibody Library for CAR-T Applications
| | | | | |
| --- | --- | --- | --- | --- |
| Function | Safety Risk | Safety Risk | Efficacy | Speed |
| Do the tightest binders yield the most functional molecules? | Control unwanted immune cell activation. | Avoid tonic signaling. | Avoid risks in your translational studies related to using surrogate molecules. | Speed up development and be first to market. |
| The tightest affinity binders may not yield the most functional or safe molecule. Deliverables should help you assess many types of binders without overstimulation of T cells. Our platform delivers 50 binders with a range of affinities (single to double-digit nM with pM potential) selected from a pool of 300-500 confirmed hits. | Stringently select for binders that distinguish as little as a single-AA difference between on-target and off-target effects. This is important to control unwanted  immune cell activation. | Studies indicate a more stable binder can reduce tonic signaling. The SuperHuman™(scFv) and Tungsten™(VHH antibody) were developed with thermostability in mind and clients have reported less than 5% tonic signaling amongst the binders delivered. | Optimize your lead to introduce murine and cyno cross-reactivity as well as identify new leads that are species cross-reactive. | Antibody discovery with us can take as little as two months to target specific single-chain antibodies or nanobodies. |
End-to-end Platform for Therapeutic Antibody Discovery and Development
This drug discovery platform technology creates a unique end-to-end platform for therapeutic antibody programs. Learn more about our integrated target-to-clinic biologics portfolio:
In vitro biology
Antibody production
Contact an Antibody Library Specialist
In 1986, the US FDA approved the first mAb to limit organ transplant rejection. Follow the journey, where next generation antibody discovery technologies contribute to therapeutic or diagnostic mAbs now approved.
Frequently Asked Questions (FAQs) About Antibody Library and Antibody Engineering
What is the SuperHuman antibody library?

The SuperHuman antibody library is a synthetic antibody library computationally optimized for diversity and developability. Through the analysis of human antibody repertoires and known monoclonal therapeutics in human phase trials, it delivers thousands of unique hits with superior affinity, cross-species coverage, and improved drug-like characteristics in as little as four weeks.

Does this antibody library have success with challenging target classes such as GPCRs?

This discovery platform successfully generated hits against the class A GPCR CXCR5 and has optimized hits against another (undisclosed) GPCR. There is no longer a need to go to nonhuman antibodies to target GPCRs. Beyond target discovery, we can also help with pharmacology studies, regulatory safety support, and all the way through to IND studies.

How does the SuperHuman antibody library avoid immunogenicity liabilities?

Immunogenicity doesn't manifest itself until human trials. Liabilities can surface at this late stage and the therapeutic can be rendered inactive and even cause negative health outcomes in recipients. The SuperHuman antibody library addresses immunogenicity up front by using antibodies that look entirely human by design. It includes antibodies with no mutations in the framework. This phage display antibody library includes only frameworks with dominant alleles found in all human populations in addition to CDR diversity that contains only the variations that the human body can produce.