Humanized Monoclonal Antibody Technology
Tumbler is a multi-factor optimization platform used for antibody humanization. As the antibody is tumbled through our proprietary technology, it is made "more human," and is optimized for affinity, removal of liabilities, thermostability, species cross-reactivity, and selective activation.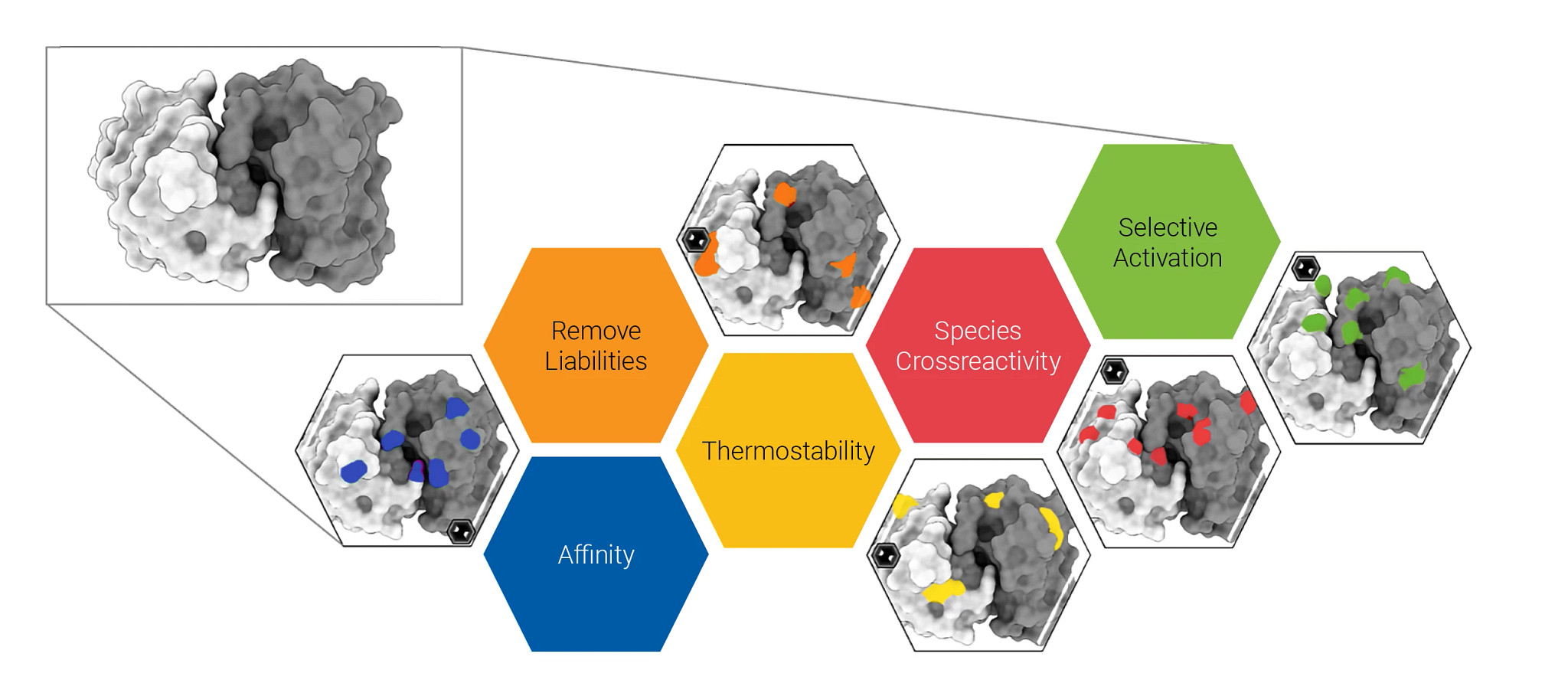 In addition, clients using Tumbler can introduce a second target binding modality on the same paratope, also known as bi-epitopic antibodies. Similarly, Tumbler is used to retrofit antibodies to cross to a new version of the original target. Repurposing drugs and lead candidates is a cost effective route of drug discovery.
Tumbler humanized antibody technology offers the following lead characteristic profiles:
Working With Us: Discover the Benefits of Our No-Risk, Rapid & Free Prequalification
We can rapidly perform a prequalification step, pre-scope of work (SOW) sequence analysis for your project at no charge. This step de-risks the antibody humanization project right away, so your resources are not wasted. After the assessment, and the project is underway, there are go/no go decision points in which the team and the client decide to continue or not, offering additional setpoints to save time and money.
Tumbler Antibody Optimization Process and Timelines

In addition to the lead molecule, a Tumbler campaign will yield these deliverables:
Risk assessment, sequence, and structural characterization of your starting antibody
Primary screening profile and sequences for up to eight plates of antibody variants (usually kinetics)
50 clones reformatted into full IgG or whatever you need
Full characterization profile of these 50 clones (kinetics, FACS, ELISA)
SAR - Sequence activity relationship - report
Humanization report (if applicable)
End-To-End Platform for Therapeutic Antibody Discovery and Development
Our Tumbler antibody humanization technology, along with our scFv library and VHH library, creates a unique end-to-end antibody discovery and development platform for comprehensive, scientifically proven therapeutic antibody projects. Learn more about the integrated target to clinic portfolio:
In vitro biology
Antibody production
Contact an Antibody Discovery Specialist
Frequently Asked Questions (FAQs) About Antibody Humanization Using Tumbler