Medicinal Chemistry is Key to Successful Drug Discovery
The right medicinal chemistry approach can be a key differentiator to fast, efficient drug discovery. Expert, experienced drug hunters agree that medchem can reduce your time to decision point.
During the compound design and compound synthesis phases of discovery, Charles River chemists use a hypothesis-driven approach. This has resulted in successful delivery of 80 development candidates and over 350 patents to our clients.
Charles River has a large team, consisting of 170 chemists, of which more than half have earned PhD degrees. On average, each member of our team has 17 years' industrial experience in the services, biotech, and pharmaceutical industries.
With expertise in early target identification, hit-finding strategies, hit-to-lead, lead optimization, patent strategy, and preparation for IND filing, the Charles River team understands client requirements and delivers development candidates that meet agreed target product profiles. Charles River medicinal chemists have experience with a wide range of therapeutic areas and collaborative working styles, and we are well equipped to drive your program forward.
Track Record of Candidates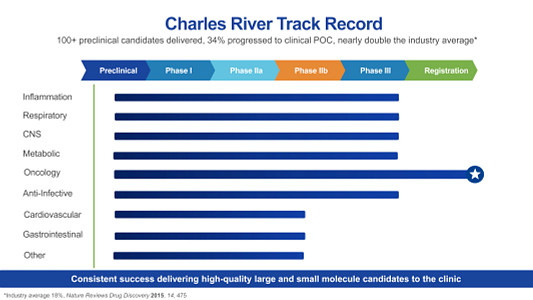 Successful candidate development is directly related to the experience of scientists, investment in platform technologies and application of a translational approach. Check out our candidate delivery and patent track record by therapeutic area. Will our next discovery be yours?
A holistic medchem approach makes a difference
Scientifically sound medicinal chemistry conclusions and recommendations must be derived from taking a holistic view of the compound of study. A series of parameters must be well understood and considered during the design and synthesis of compounds and they include:
Potency
Stability
Selectivity
Bioavailability
Efficacy
Safety/tolerability
Patentability
Pharmacokinetics and pharmacodynamics
Looking at all these parameters at once reduces the risk of encountering unanticipated and unfavorable compound findings downstream. Our scientists use modelling to look at compounds of interest with a holistic view, and then determine an optimized combination of the above parameters. If this isn't done by experienced scientists, clients can encounter toxicity or similar findings that will delay or derail programs.
Hypothesis-driven optimization is integral to our medchem philosophy
Charles River's medicinal chemistry philosophy is based upon developing hypotheses to overcome issues and then interrogating these hypotheses in a design, synthesize, test and analyze cycle to drive the optimization process.
By asking the right questions and making the compounds that answer these questions, we understand how to respond to data, and this drives informed decisions toward compound optimization. Clients can reduce the overall medicinal chemistry cycle time when a hypothesis-driven optimization process is in place.
Decision points occur at key points of the drug discovery process, from hit identification all the way through to IND-enabling studies. We consider key factors such as client intellectual property (IP) generation, compound stability for in vivo studies, solubility and other poor property issues, weak exposure in an animal and off-target selectivity in our compound synthesis projects.
The Charles River pharmaceutical chemistry team has the expertise, experience and processes to optimize and present the most optimized solutions into single compounds to our client partners.
Benefit from accumulated drug discovery knowledge
As programs progress, the bioorganic and medicinal chemistry team is able to call on additional in-house scientific disciplines including structural biology, in vitro biology, DMPK, in vivo pharmacology, pharmaceutics/formulation, and safety assessment. Our computational chemistry group has many years of experience in deploying a full range of in silico tools to support the design process and assist in the continuous interpretation of in vitro and in vivo data.
Our scientists can also draw upon the wider Charles River organization to help progress your development candidate towards the clinic. This collaborative, integrated approach to drug discovery ensures that your program:
Stays focused on achieving your goals and delivers to your budget
Benefits from our accumulated knowledge and experience
Maximizes efficiency by accessing the widest range of services
Minimizes turnaround times without compromising quality
Establishes and protects intellectual property
Medicinal Chemistry Frequently Asked Questions (FAQs)