Accelerate Preclinical Drug Development
The industry standard timeline from hit identification to preclinical candidate nomination is on average 33-36 months. As a full service preclinical drug development CRO with an integrated approach to development, Charles River can reduce this timeline to as little as 24 months. Through industry experienced, multidisciplinary teams focused on resource efficiency, scientific excellence, and strategic partnerships we shorten time to market.
What's the difference between an integrated drug discovery project and a traditional outsourcing project? Watch this video to learn how the right preclinical drug development CRO can make the difference.
Our preclinical drug development scientists are skilled consultants with expertise across almost all therapeutic areas. They understand your requirements and can deliver preclinical development candidates that meet your target product profile.
When you choose Charles River as your preclinical drug development CRO, your program benefits from a knowledge-based approach to advancing compounds from hit identification through lead optimization and into development. Combining advanced technologies with decades of experience, our team consistently converts leads into candidates. In fact, we've delivered 82 candidates to partners so far, and the list continues to grow.
---
Track Record of Candidates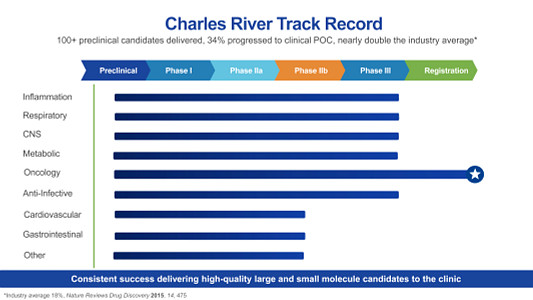 ---
Who's on Your Team?
In addition to the multidisciplinary group of scientists assigned to your project, you'll find more people who are dedicated to helping you reach your goals. At the helm of your integrated drug discovery programs are experienced project leads who bring personalized attention and efficient management of contributing teams from across our organization.  Our seasoned scientific advisory services (SAS) team adds value with insight and guidance for a smooth path to clinic.
A Seamless Transition to IND
Understanding how and when to plan a preclinical investigational new drug (IND)-enabling program is an integral part of meeting specific milestones necessary for timely and efficient IND submission. As a preclinical drug development CRO, Charles River has several decades of preclinical research services experience, a unique range of services and best-in-class expertise to help clients complete an IND-enabling program on time and within budget.
---
Integrated Drug Discovery Seminar Series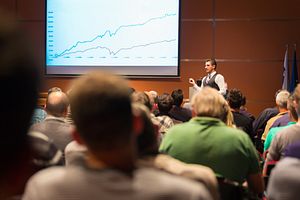 Charles River chemistry and biology leaders host customized, virtual seminars throughout the year to share data and present case studies on how to optimize the drug discovery workflow.
Request a date
---
When you're ready to move from integrated drug discovery into development, Charles River offers preclinical CRO services for small molecules, large molecule biologics, and advanced therapy medicinal products with the design of suitable studies or programs for submission to all global regulatory authorities. Learn more in our Investigational New Drug Development Programs eGuide.
---
Integrated Drug Discovery Frequently Asked Questions (FAQs)