Get to IND Faster
The industry standard from hit identification to development candidate nomination is on average 33-36 months. Charles River's truly integrated drug discovery (IDD) programs have reduced this timeline to as little as 24 months through industry experienced, multi-disciplinary teams focused on resource efficiency, scientific excellence and strategic partnerships with clients through all aspects of drug discovery.
John Montana, PhD, Corporate Vice President, Integrated Drug Development and Strategic Projects, discusses the difference between an integrated drug discovery project and a traditional outsourcing project.
With numerous technologies for hit identification, coupled with our knowledge-based approach to advance compounds from hit-to-lead into lead optimization, our scientific team consistently convert leads into successful preclinical development candidates. Our integrated drug discovery projects are often managed by a member of our Scientific Advisory Services (SAS) team. Meet the SAS Team
Charles River IDD scientists serve as drug discovery consultants and have expertise across almost all therapeutic areas. The project team understands client requirements and delivers development candidates that meet agreed target product profiles.
Track Record of Candidates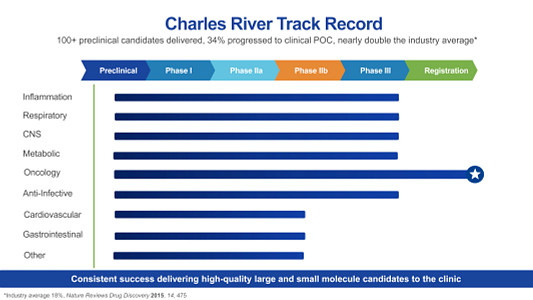 Successful candidate development is directly related to the experience of scientists, investment in platform technologies and application of a translational approach. Check out our candidate delivery and patent track record by therapeutic area. Will our next discovery be yours?
Understanding how and when to plan a preclinical investigational new drug (IND)-enabling program is an integral part of meeting specific milestones necessary for timely and efficient IND submission. Charles River has several decades of IND research experience, a unique range of services and best-in-class expertise to help clients successfully initiate and complete an IND-enabling program on time and within budget. Charles River supports small molecule drug discovery work and large molecule drug discovery work with the design of suitable studies or programs for submission to all global regulatory authorities.
Learn more in our Investigational New Drug Development Programs eGuide
Integrated Drug Discovery Frequently Asked Questions (FAQs)