Hit-to-Lead Optimization and Hit Expansion
Achieving a lead candidate is challenging. Charles River scientists will work closely with you to define the compound profile required, prioritize compounds for detailed evaluation, and interpret results from a customized screening cascade. This includes primary target and cellular activity together with ADME/PK assessment and target engagement biomarker assay development.
Track Record of Candidates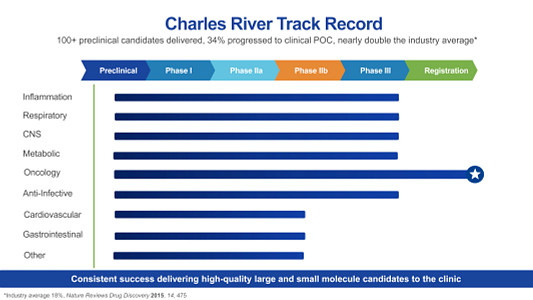 Successful candidate development is directly related to the experience of scientists, investment in platform technologies and application of a translational approach. Check out our candidate delivery and patent track record by therapeutic area. Will our next discovery be yours?
The Charles River chemistry team can guide key decisions at the hit generation and hit expansion stage by considering factors such as compound stability for in vivo studies, solubility, and other poor property issues, weak exposure in an animal, and off-target selectivity. As seen in the above chart, Charles River has an extensive track record of delivering high-quality lead series to our clients within agreed timelines across a broad range of target classes and therapeutic areas.
---
Integrated Drug Discovery Seminar Series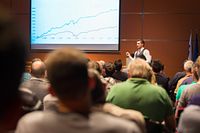 Charles River chemistry and biology leaders host seminars throughout the year to share data and present case studies on how to optimize the drug discovery workflow.
---
Hit-to-Lead Activities
Charles River is a hit-to-lead CRO, offering flexible, customized hit2lead services. Business models include stand-alone, fee-for-service pricing, and fully integrated solutions. Driven by your needs, projects may feature one or more of the following:
Design and synthesis of new analogues for rapid SAR determination
Increasing compound potency and selectivity
Improvement of drug-like properties
Applying CADD to generate binding hypotheses and to investigate SAR
Early assessment of ADME properties
Chemical synthesis
Evaluation of target engagement biomarker assays
Ranking of hits or hit series for lead optimization
---
Hit-to-Lead Frequently Asked Questions (FAQs)