Lead Optimization Services
Our efficiency is achieved through the integration of key disciplines, such as assay development and screening, computer-aided drug design, ADME/PK and pharmaceutical sciences, into project teams with many years of experience in tackling the problems associated with converting leads into candidates. An additional aid to efficient decision making during this phase of a project is the use of translational biomarkers, which are employed whenever possible.
We also have many years of experience in providing medicinal chemistry services in joint project teams with a variety of pharmaceutical and biotechnology companies. The first drug on the market resulting from a collaboration with our medicinal chemistry group was announced in July 2014.
This collaborative approach to our partners' drug discovery programs is reflected in patent applications (where our scientists appear as joint inventors on client projects) and in our publications. Wherever possible, we encourage our scientists to publish, present and defend posters, and present orally at conferences.
Lead Optimization Deliverables
Compounds with maximized potency and selectivity plus minimized toxicity
Compounds with evidence of target or pathway engagement in human systems
Human dose predictions
Patent filings
Generation of a preclinical candidate meeting agreed criteria
---
Integrated Drug Discovery Seminar Series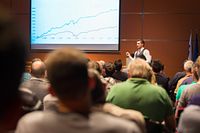 Charles River chemistry and biology leaders host seminars throughout the year to share data and present case studies on how to optimize the drug discovery workflow.
---