Lead Discovery
Successful lead optimization in drug discovery requires knowledgeable and collaborative scientists at a CRO that regularly invests in technology. In order to give your small or large molecule the best chance to turn into a preclinical candidate, a rigorous approach to translational study design and risk mitigation is required.
Lead Optimization Services and Deliverables
In addition to optimizing the lead compound's safety profile, researchers must develop a clear understanding of the mode of action, nature of the target, and establish the biological relevance of the animal species used in pharmacological studies, as well as explore potential differences between animal models and humans.
Among the lead selection and optimization services we offer, they include:
Evidence of target or pathway engagement in human systems
Studies to maximize potency and selectivity plus minimize toxicity
Generating a preclinical candidate meeting agreed criteria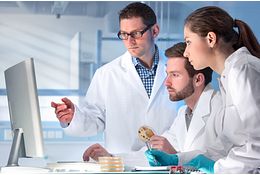 Completing this phase quickly with the necessary information to move confidently into an IND study requires a diverse group of experts working to the same goals, with a shared commitment to actionable data and reproducible results. For a full list of services, timelines, and costs, talk with us about your program.
Lead Selection and Optimization
We offer a comprehensive suite of drug discovery services, and our lead optimization scientists work collaboratively with our target ID, hit identification, and hit-to-lead teams to offer a seamless solution for our clients.

Below is a partial list of guided lead optimization studies:
Mechanism of action
Appropriate LogP and LogD profiles
Biochemical and functional potency
Acceptable biochemical kinetics (on-off rates)
Target engagement in vitro
Selectivity profiling and optimization
Potency distribution showing structure-activity relationship (SAR)
Solubility profiling and optimization
Permeability (Caco-2)
Metabolic liabilities profile
Human plasma protein binding ≤ 99%
CYP450 inhibition
hERG and chronic cytotoxicity screen
Genotoxic liabilities profile
Cerep® profile
In vivo PK and ADME profile
In vivo efficacy in appropriate animal models
Track Record of Candidates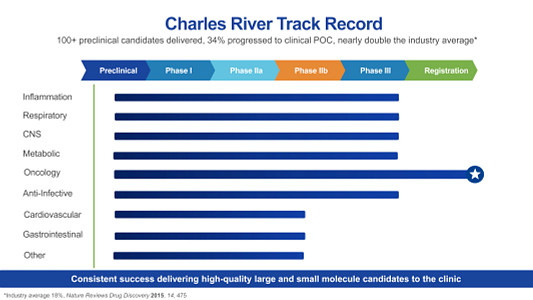 Successful candidate development is directly related to the experience of scientists, investment in platform technologies and application of a translational approach. Check out our candidate delivery and patent track record by therapeutic area. Will our next discovery be yours?
Path to Preclinical Candidate and Clinical Candidate Success
With years of laboratory experience, scientific expertise through publications and patents, and a proven track record conducting lead optimization programs, partnering with us can give your program a leg up on the competition. Having already worked on 85% of drugs currently on the market, find out how we can turn your small and large molecules into preclinical candidates and, eventually, therapeutics.