Inflammation Models
When our immune system is inappropriately activated this can result in chronic inflammation and autoimmune disease. Advances in immunology research have clarified the role the immune system plays in many different disease areas, even those that have not been traditionally thought of as having an immune component. Charles River's expert immunologists can support your immunology programs with a wide selection of in vivo and in vitro immunology assays, inflammation models and autoimmune models, across numerous therapeutic areas, like vaccine development, infectious disease, and immuno-oncology.
In a truly translational approach to discovery and development, we combine our inflammation models and autoimmune models with relevant biomarkers like flow cytometry and histologic analysis, for a study design tailored to meet the goals of your immunology programs.
---
Immunology Assays and Inflammation Models: Advance Your Autoimmune Disease-Targeted Therapies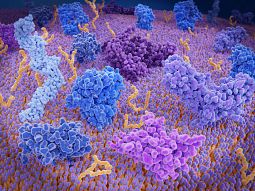 Our experts explain how combining disease-relevant models, in vitro inflammation models, and autoimmune T cell assays creates a clear picture of how your therapy is reprogramming the immune system.
---
Challenges in Immunology Research
Global immunosuppressive drugs that treat autoimmune and auto-inflammatory disease (cyclosporin A and rapamycin) might soon be replaced by newer immunomodulatory therapies targeting the cell types and pathways that drive the disease process. The advantage of such therapies is that the rest of the immune response remains intact, with better outcomes for patients.
Inflammation and autoimmune drug discovery programs that focus on a specific disease area require models that recapitulate the human target disease as closely as possible. It is important to choose best efficacy model to elucidate the effect of your therapeutic. For example, if your target is CD4 Th1 T cells, your chosen autoimmune model should demonstrate a strong Th1 component.
For immunology research programs looking to screen for in vivo target engagement, pharmacodynamic (PD) models may provide an alternative way to demonstrate that your therapeutic is on target before moving to more complex and lengthy efficacy models. Alongside in vivo clinical scores and efficacy, ex vivo analysis of immune cell subsets provides critical information on whether your therapeutic influenced cell behavior (e.g., proliferation, differentiation) in the anticipated manner.
As we see an increasing number of antibody-based therapies heading through the drug development pipeline, it is important not only to consider cross-reactivity onto mouse or proving efficacy in a mouse equivalent of your therapeutic, but also to test using the relevant human immune cell populations.
Our team has developed numerous pharmacology, efficacy and mechanistical actions (MOA) immunology assay and models to support your drug development.
Understanding MOA Drives Model Selection
Charles River's immunology platform combines autoimmune models, autoinflammatory pharmacodynamic (PD) and efficacy models with expertise in ex vivo analysis of immune cell subsets and primary human immune cell assays. In addition to guiding your model selection, our team can help you determine if you are engaging your target with the expected outcomes by evaluating the right ex vivo readouts and running relevant assays with human immune cell subsets.
---
In Vivo Pharmacology PD Models to Further Refine the Compound Selection and Develop Suitable Readouts
Pharmacodynamics models can drive your immunology assay, before entering lengthy and expensive disease-specific models. Examine the role of a therapeutic outside of the disease setting, to determine if it is hitting its target and modulating the desired cell type.
---
Inflammation Model By Therapeutic Area
Immunology assays have become an important tool during a lot of different types of drug development, even for therapeutic areas not known to have an immune component. Charles River has developed extensive experience with those in vitro and in vivo immunology models and are able to advise on the best assays to collect human translational data based on the characteristics of your drug.
Frequently Asked Questions (FAQs) about Immunology Assays & Autoimmune Models