Fibrosis Assay Services
Fibrosis is characterized by excessive deposition of extracellular matrix due to exaggerated repair in response to damage. Common features include the involvement of inflammation, appearance of myofibroblasts, and changes in epithelial cells and macrophages. The complex interactions between various cell types involved demand IPF disease-relevant in vitro fibrosis models and in vivo models to enable the discovery and development of new drugs for this fibrotic rare disease.
Scientific Poster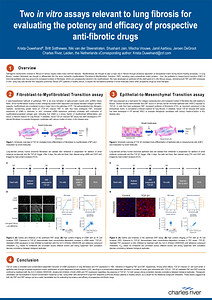 Two in vitro assays relevant to lung fibrosis for evaluating the potency and efficacy of prospective anti-fibrotic drugs.
Additional fibrosis capabilities we offer include:
Fibroblast migration – scratch assay; wound closure
Epithelial migration – scratch assay; wound closure
Fibroblast gel contractility
Fibroblast impedance – contractility
Hepatic stellate cell to myofibroblast transition
Fibrosis Assay FAQs