EMT Assay in Lung Cells from Idiopathic Pulmonary Fibrosis Patients and Healthy Donors
Epithelial-to-mesenchymal transition (EMT) was proposed as a mechanism for collagen overproduction and increased number of fibroblast-like cells leading to fibrosis. Several studies demonstrated that EMT occurs in human lung epithelial cell lines and primary human bronchial epithelial cells (HBECs) upon exposure to TGF-β1. In cells that have undergone EMT, increased synthesis of fibronectin (FN1, an important component of the extracellular matrix) is a relevant readout for lung fibrosis.
A validated, robust TGF-β1-induced EMT cell-based assay has been developed using primary human bronchial epithelial cells that are derived from idiopathic pulmonary fibrosis (IPF) patients and healthy donors, to evaluate therapeutic candidates with various modes of action in this disease area. Transdifferentiation of EMT is measured with biomarker fibronectin (FN1) via high content analysis (HCA). Charles River offers a complementary Fibroblast-to-Myofibroblast Transition (FMT) Assay to support your fibrosis research.
Need A Custom Version Of This Assay?
EMT Assay Principle
Lung-derived primary human bronchial epithelial cells are seeded, then refreshed in preparation for addition of small molecule compounds and the TGF-β1 trigger. After three days, the cells are fixed, then stained using DAPI and FN1 and imaged via HCA.

EMT Assay Setup
Cells ➔ HBEC from IPF donors or healthy donors
Seeding density ➔ 2,500 cells/well in 96-well plates
Trigger ➔ 5 ng/mL TGF-β1
Assay controls ➔ 0.1% DMSO (negative control) and 1 μM SB525334 (positive control)
Compounds ➔ 8-point concentration response curves (in biological duplicate)
Fix ➔ 72 hours post-trigger
Readout ➔ FN1 and DAPI staining (high-content analysis)
Assay Performance
Representative concentration response data shown below from IPF patient-derived HBEC, 72 hours post TGF-β1 trigger.
Figure 5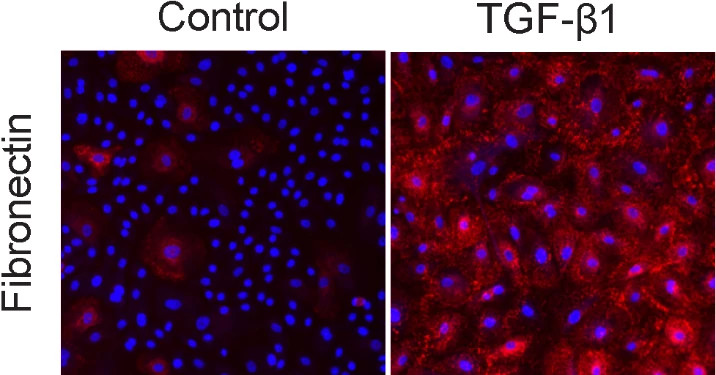 Summary
TGF-β1 consistently induced upregulation of the biomarker FN1, indicative of epithelial-to-mesenchymal transition (EMT). As a side effect, TGF-β1 stimuli showed a slight effect on the number of nuclei. Among the several effects of TGF-β1 is a regulation of the cell cycle in the G1 phase, through increased expression and/or stabilization of cyclin-dependent kinase (CDK) inhibitors (CKI). This regulation ultimately results in growth arrest of human airway epithelial cells. TGF-β1 trigger could be inhibited by treatment with an ALK-5, showing full inhibition of FN1 regardless of the presence of TGF-β1. As a result, the TGF-β1-induced cell cycle blockade was reversed in a concentration-dependent fashion, shown by increased number of nuclei. IC50 values were consistent between different donors (not shown), and strong Pearson correlation denotes consistency between biological replicates. Using these fibrosis assays, the transdifferentiation of EMT can be monitored to evaluate therapeutic candidates.
Therapeutic candidates can be evaluated in an 8-step CRC, using three different IPF patients/healthy donors in biological duplicate for their effect on FN1 modulation. In addition, potential cytotoxic side effects of the tested therapeutic candidate will be assessed by monitoring the loss of nuclei as a measure for cell death. Results will be provided as percentage inhibition (PIN values) and % viable cells.
Complementary Fibrosis Assays