FMT Assay in Human Lung Cells Derived from Idiopathic Pulmonary Fibrosis (IPF) Patients and Healthy Donors
A well-characterized hallmark of pathologic FMT is de novo formation of alpha-smooth muscle actin (αSMA) stress fibers. Since myofibroblasts localize at sites undergoing active matrix deposition and display elevated collagen synthetic capacity, myofibroblasts are considered to play a major role in the pathology of idiopathic pulmonary fibrosis (IPF). The well-established key fibrogenic mediator, transforming growth factor TGF-β1, induces FMT. In cells that have undergone FMT, increased expression of αSMA is observed. In vitro, increased αSMA expression positively correlates with contraction of myofibroblast populated collagen gels, indicating that αSMA is a strong marker of myofibroblast differentiation, and thus a relevant readout for lung fibrosis.
A validated, robust TGF-β1-induced FMT cell-based assay has been developed in IPF-derived fibroblasts to evaluate therapeutic candidates with various modes-of-action in this disease area. Charles River offers a complementary Epithelial-to-Mesenchymal Transition (EMT) Assay to support your fibrosis research.
Need A Custom Version Of This Assay?
FMT Assay Principle
Lung-derived primary human bronchial fibroblasts are seeded then refreshed in preparation for addition of small molecule compounds and the TGF-β1 trigger. After three days, the cells are fixed, then stained using DAPI-labeled αSMA and imaged via high-content analysis (HCA).

FMT Assay Setup
FMT protocol has been developed for analysis of transdifferentiation of fibroblasts to myofibroblasts. Marker expression is quantified using in-house developed algorithms on an HCA platform.
Cells ➔ lung fibroblasts from IPF donors or healthy donors
Seeding density ➔ 3,000 cells/well in 96-well plates
Trigger ➔ 1.25 ng/mL TGF-β1
Assay controls ➔ 0.1% DMSO (negative control) and 1 μM SB525334 (positive control)
Compounds ➔ 8-point concentration response curves (in biological duplicate)
Fix ➔ 72 hours post-trigger
Readout ➔ αSMA and DAPI staining (high-content analysis)
Assay Performance
Representative concentration response data figures shown below from patient-derived fibroblasts, 72 hours post TGF-β1 trigger.
Figure 5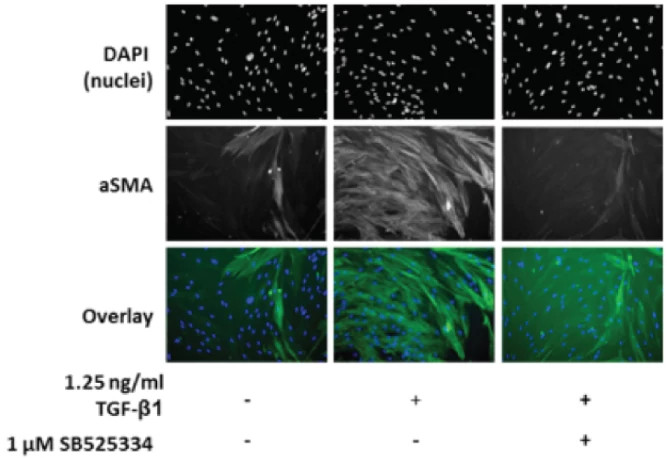 Summary
Lung-derived fibroblasts stimulated with TGF-β1 demonstrated a clear concentration-dependent increase in αSMA levels, while increasing the TGF-β1 stimuli showed no effect of on the number of nuclei, indicative of no cytotoxic events. TGF-β1trigger could be inhibited by treatment with an ALK-5 inhibitor, showing full inhibition of αSMA regardless of the presence of TGF-β1. IC50 values were consistent between different donors, and strong Pearson correlation denotes consistency between biological replicates. Using these fibrosis assays, transdifferentiation FMT can be monitored to evaluate therapeutic candidates.
The therapeutic candidates can be evaluated via a 8-step CRC using three different IPF patients/healthy donors in biological duplicate for their effect on αSMA modulation. In addition, potential cytotoxic side-effects of the tested therapeutic candidate will be assessed by monitoring the loss of nuclei as a measure for cell death. Results will be provided as percentage inhibition (PIN values) and % viable cells.
Complementary Fibrosis Assays