Effector and Regulatory T Cell Assays to Assess Your Autoimmune-Targeted Therapeutic
Autoimmune disease is characterized by the presence of autoreactive T and/or B cells which help drive a destructive inflammatory immune response against our own tissues.
T cells offer a tractable target to allow researchers to re-program the immune system and to shift the balance towards regulation and homeostasis, rather than inappropriate activation and inflammation; for example, by inhibiting inflammatory T cell types or by driving the generation of suppressive regulatory T cells. Current therapies in the clinic used to modulate T cell function in the context of autoimmune disease include:
Global immunosuppressants such as Cyclosporin A and Rapamycin
Therapeutics inhibiting T cell activation via blocking co-stimulatory pathways (e.g., CTLA-4 fusion proteins)
Inhibitors of T cell differentiation or effector molecules, which target cytokine signaling (e.g., Jak/STAT pathways) and antibodies (e.g., TNFα and IL-17)
By increasing specificity of a therapy and targeting the specific T cell populations which are driving disease the rest of the immune system is left intact and the patient is not globally immuno-suppressed and left susceptible to infection.
So, controlling or limiting a specific T cell response is an effective strategy to control the autoimmune disease process. Tools like our inflammation and autoimmune T cell assays evaluate your therapy's efficacy using human T cells in an in vitro system. This is especially critical, as a thorough investigation of a drug that targets T cell function requires the study of human T cells and animal models of human disease. Using data from both systems accounts for the differences in mouse and human T cell populations (e.g., in terms of balance between memory and naïve T cell subsets).
---
Evaluating Autoimmune Disease Targeted Therapies That Reprogram the Immune System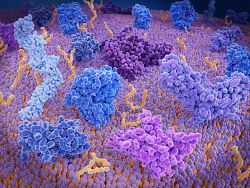 In this webinar, our experts explain how combining disease-relevant models and in vitro inflammation and autoimmune T cell assays can provide a clear picture for your therapy to reprogram the immune system.
---
Improve your understanding of how your therapeutic modulates T cell function with guidance from our team. We'll help you select the best approach to model autoimmune disease processes from our broad portfolio of validated and custom T cell assays.
T cells as targets for therapeutic development
T cells play a critical role in autoimmune and inflammatory diseases and can act to drive or suppress immune responses, depending on their phenotype.
CD4+ function

CD4+ T cells polarize into different helper T cell subsets depending on the context of the conditions under which they are activated. These subsets include:

Inflammatory subsets (Th1, Th17)
Th2 cells, which provide B cell help and are specialized in fighting extracellular pathogens
TFH cells which help different aspects of the B cell response within secondary lymphoid organs

Regulatory T cells population

Regulatory T cells (Treg), which are a heterogeneous population characterized by their almost unique ability to suppress immune responses.

CD8+ T cells role

CD8+ T cells, which mediate anti-tumor and anti-viral defence and are also associated with GVHD and can facilitate aspects of autoimmune disease.

The function of these T cell populations can be defined in validated or custom designed in vitro T cell assays to help define and understand drug efficacy with regard to regulating T cell function.
Inflammation and autoimmune T cell assays
Polyclonal T cell activation assays
Antigen-specific T cell activation assays
Mixed lymphocyte reaction (MLR) assays
Analysis of naïve or memory T cell populations
Expansion and functional analysis of rare antigen-specific T cells
T cell differentiation
Natural or inducible Regulatory T Cell (Treg) functional assays
Immune synapse formation
After you assess the ability of your therapeutic to target human T cell differentiation and/or function, (and depending on your therapeutic target), studies using complementary disease models can provide information on in vivo efficacy in your disease of interest. Relevant in vivo disease and PD models could include imiquimod- induced psorisasis (Th17/iTreg axis), EAE and EAU (iTreg/Th1/Th17 axis), adoptive transfer colitis (iTreg/Th1/Th17 axis), dermatitis models (Th1/Th2 axis),or immuno-oncology T cell assays.
The following scientific poster presents an autoimmune application of these T cell assays in inflammatory bowel disease (IBD).
---
Modelling Inflammatory Bowel Disease using a Translational T Cell Assay Platform
Get the data on validated animal models and in vitro human T cell assays used to test immunomodulatory therapeutics for IBD.
---
Our team can help you determine which T cell assays best support your program, whether you require a screening assay format or bespoke complex assay design.
Frequently Asked Questions (FAQs) about Inflammation and Autoimmune T cell Assays