Studies Using Aged Animals
Biological aging is emerging as a therapeutic target and multiple diseases are associated with aging including dementia, cardiovascular disease, diabetes, bone and joint issues etc. To develop therapies targeting age-related diseases, it is essential to perform studies in aged rats and mice as these models display the hallmarks of aging. However, it is cost-prohibitive and time consuming to develop a cohort of aged animals de novo.
At Charles River, our scientists conduct contract studies in aged animals (rats and mice) to study cognitive decline and other studies associated with aging including Alzheimer's disease research and dementia. These studies can be customized to test the efficacy of novel therapeutics. Aged cohorts of animals are immediately available to start studies in a short timeframe.
Our aged rat and mouse models begin to exhibit cognitive, biochemical and brain metabolism deficits at approximately 19-20 months of age. Aged rat and mouse studies can also be combined with scopolamine-induced amnesia studies. A typical study design is shown below.
Study Design
Neurological Findings in Aged Rats Using Translational Imaging Technologies: PET, SPECT and MRI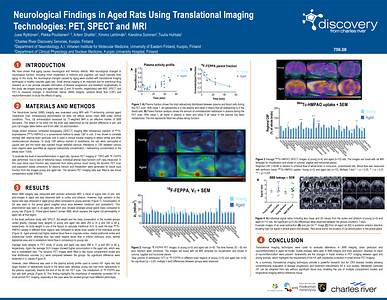 In this poster, scientists examined the neurological changes caused by aging, including minor impairment in memory and cognition with translational imaging techniques.
Study Endpoints
Physiological endpoints:
Body weight measurement
Cognition testing:
Biomarkers:
PET imaging, SPECT imaging and MRI to study changes in cerebral blood flow, neuroinflammation and blood brain barrier changes.
Synaptophysin mRNA (qPCR) and protein(IHC/WB) levels
Changes in bioenergetics, mitochondrial and redox readouts

31P-MR spectroscopy to measure bioenergetic readouts including ATP, ADP, PCR, Pi
1H-MR spectroscopy to measure hippocampal metabolic profiling (PCR, CR, NAA, TAU, GLU, GLN, LAC, GABA, mINS, ACE, CHO and GSH)

Neurochemical measurement using HPLC for ACh, DA, 5HT, NE
Cell Population and Proliferation

Immunohistochemistry (IHC) for NeuN, GFAP and Iba-1
BrdU incorporation
Prolonged latency in aged animals compared to young animals showing memory loss and cognitive decline in the aged animal group.
Reduction in PSD95 levels in older compared to younger animals. PSD95 is known to be reduced in aged animals.
Measurement of various neurometabolites in aged animals and young animals using proton magnetic resonance spectroscopy. Asterisks mark statistically significant differences in specific metabolites between the two cohorts.