Amnesia Model Validation Data
The cholinergic system in the brain is important for multiple central nervous system functions including learning and memory, so disruption of the cholinergic system leads to amnesia or memory loss. Scopolamine, a muscarinic cholinergic receptor antagonist, is a well-known agent that is used to study impaired learning and memory in alzheimer's disease mouse models and other animal models of cognitive decline. Charles River conducts contract studies in established scopolamine-induced amnesia animal models to facilitate research and the development of compounds for Alzheimer's disease and other diseases associated with negative impact on memory and cognitive functions.
In mice, the cognitive tests used to test the effect of scopolamine and the reversal of cognitive decline include:
Contextual fear conditioning (CFC) test. This test is well established as a method for mice to learn and remember associations with cues and requires hippocampal function. 
Social transmission of food preference (STFP) test that is a measure of the olfactory memory and also requires hippocampal function.
In rats, the cognitive tests used to test the effect of scopolamine include:
Passive avoidance test - this test is a fear-motivated test that is used to assess short-term or long-term memory and relies on conditioning the animal to remember behavior that is contrary to innate tendencies.
T-maze alternation learning - the T-maze test is a measure of exploratory behavior and is used to measure hippocampal dysfunction.
Validated Neurological & Rare Disease Models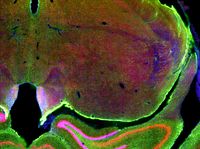 Charles River offers a broad selection of neurological disease models that are validated for preclinical in vivo pharmacology and safety studies.
Learn More
In addition to rodent models, Charles River has expanded its neuroscience drug discovery services to include large animal models that are used to study higher cognitive function and changes. Our large animal models are evaluated using a broad range cognitive test battery that is similar to the CANTAB touchscreen testing methods used in humans as well as novel object retrieval tests.