Animal Models of Parkinson's Disease
Parkinson's disease (PD) is characterized by motor symptoms including tremor, unstable posture and bradykinesia. There is significant loss of dopaminergic neurons and one of the primary pathological hallmarks is the presence of Lewy bodies that are largely composed of alpha-synuclein aggregates.
---
Neuroscience 2019 Scientific Posters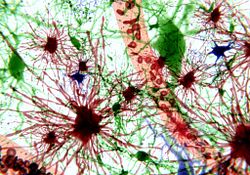 Discover new approaches and technologies to fuel your next neuroscience discovery. Check out our scientific posters from Neuroscience 2019.
Download the Posters
---
Charles River offers a comprehensive and more readily translatable modeling platform of chemically and biologically induced and genetic models to study mechanism of action and efficacy of novel PD therapies. The portfolio of animal models of Parkinson's disease includes established chemically induced models (6-OHDA and MPTP) and genetic models (alpha-synuclein).
The following table highlights some of the validation testing for each Parkinson's disease model:
| Model | Induction | Behavioral Deficits | Monoamine Levels | Histology |
| --- | --- | --- | --- | --- |
| 6-OHDA | Chemically induced unilateral model (intrastriatal or median forebrain bundle lesion) | Rotational asymmetry and Motor defects | Decreased Dopamine, DOPAC and HVA content in striatum | Reduction of TH-positive cells in the substantia nigra |
| MPTP | Chemically induced model | Motor defects | Decreased Dopamine, DOPAC and HVA content in striatum | Reduction of TH-positive cells in the substantia nigra |
Tell us how we can support your program
End to End Drug Discovery Capabilities for Parkinson's Disease
Check out this poster highlighting end to end Parkinson's disease drug discovery capabilities, with access to more resources from Charles River.
View the Poster
AAV-A53T alpha-synuclein model
The delivery of AAV1/2-A53T-alpha-synuclein (AAV-A53T) to mice and rats produces deficits that are similar to PD pathophysiology such as motor impairment, reduction in dopamine levels and loss of tyrosine hydroxylase. The AAV-A53T Parkinson's disease model has been characterized in detail for gait and movement changes using rotarod tests and quantitative multi-parametric fine motor kinematic analysis. The following changes are noted in AAV-A53T mice compared to control –
Significant increase in amphetamine induced rotational asymmetry
Impaired walk parameters and persistent gait deficits
Alterations in limb movement trajectory over the gait cycle
Unilateral 6-OHDA lesion model
In this model, 6-OHDA is delivered unilaterally to the medial forebrain bundle in rats which causes the development of a significant lesions to dopaminergic neurons of the substantia nigra and have highly sensitized dopamine receptors in the striatum. The systemic administration of L-dopa differentially activates the hemispheres creating an imbalance in the motor stimulation that manifests as rotational behavior changes. A2A receptor antagonists such as preladenant are efficacious in improving motor symptoms in combination with L-dopa.
Figure 1: Preladenant has a positive effect on improving motor behavior when combined with L-dopa.
MPTP Lesion model
The delivery of the neurotoxin, MPTP induces a number of PD deficits by selectively inducing dopaminergic neuron cell death so this model is used in Parkinson's disease studies to identify about symptomatic and disease modifying endpoints. The levels of key markers such as Iba-1, TH and DOPAC are measured using conventional biochemical assays. At Charles River, our scientists have further validated the MPTP mouse model for changes in gait and locomotion using rotarod tests or fine motor kinematic analysis, a quantitative measurement of over 100 parameters associated with movement and posture. The MPTP mouse model shows significant changes in stride time, step width and speed.
Learn more about our recently extended collaborations with the Michael J. Fox Foundation to advance Parkinson's disease drug discovery.
Figure 2: Reduction in tyrosine hydroxylase levels induced by MPTP
Figure 3: Changes in locomotion parameter between MPTP and control mice
For more information, visit our Parkinson's Disease Models FAQs.