Oncology and Immuno-oncology Cell Based Assays
For your oncology-targeted compounds, test the efficacy of your compound in vitro in a rapid, reliable, and cost-effective way.
Our range of oncology and immuno-oncology cell based assays include patient-derived xenograft (PDX) assays and assays representing the entire tumor microenvironment (TME), so that your therapies are not only tested for their effect on real patient materials but also their interaction with human immune systems.
Immuno-oncology neutrophil assays
Fibroblast assays
---
Cell-Based Assays for the Tumor Microenvironment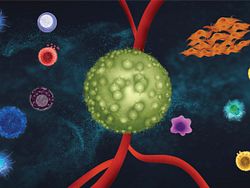 The Charles River Translational Platform for Immuno-Oncology combines assays for every cell in the tumor microenvironment with PD, syngeneic, and humanized in vivo efficacy models to fully characterize your therapy for an accelerated journey to the clinic.
---
Translational PDX Assays
Our proprietary cell lines are available as "matched pairs," i.e., cell lines and corresponding patient-derived xenografts (PDXs), and can be used 2D in vitro, 3D ex vivo, and in vivo PDX, with a seamless transition between assays.
With 80 proprietary cell lines derived from our portfolio of PDX models and over 200 commercial human tumor cell lines available, we offer you the opportunity to test your compound with an extensive screening approach for up to 50 cell lines. In addition to selected clinical data and comprehensive molecular data for the originating tumor model, these cell lines are also characterized by their sensitivity for up to 240 reference agents.
Standard or custom screening panels are available and span a wide variety of cell types.
A Translational Platform for Immuno-Oncology
Given the complexity of the tumor microenvironment, it is imperative to create in vitro assays that include all major immune cell types a compound may interact with. Investigating with a multicellular phenotypic assay enables us to take various looks at a compound's responses in platforms specifically designed to mimic the tumor microenvironment. Optimized cell-based assays provide critical information to validate the efficacy of a compound in simple and increasingly complex co-culture assays.
Starting with T cell modulation, we can monitor T cell activation, T cell proliferation, T cell exhaustion, T cell chemotaxis, and cytokine response. We have also developed single cell and co-culture assays to monitor an immunotherapeutic's interaction with specific cell types such as natural killer cells, macrophages, dendritic cells, neutrophils, and fibroblasts. Available as both 2D and 3D, the assays deliver insights that serve as better predictors for the transition to in vivo studies.
Rhiannon Jenkinson, Director of Science at Charles River, discusses the impact of the tumor microenvironment on immune-oncology drug development.
---
Download the poster to navigate through the TME
The tumor microenvironment is a complex space. Are you aware of all the immunological mechanisms that could impact your drug development? Download the poster
---
Have another question or need advice on which model is right for you?
Frequently Asked Questions (FAQs) in Oncology Assays