In Vivo Tumor Models
Charles River's experience with oncology drug discovery spans all phases, from target identification to IND studies. Utilizing the most effective combination of tools available to identify promising compounds, we work with our partners to design studies by selecting from amongst a broad range of well-characterized tumor models.
In Vivo Cancer Models:
Combining these cancer models with appropriate translational tools like ELISpot, flow cytometry, imaging, gene expression analysis, and tumor microdialysis, you can develop the most efficient, relevant study design and screening method to identify promising compounds and optimize lead candidates.
Before entering traditional in vivo efficacy models, using pharmacodynamic models helps to ensure target engagement and immune modulation e.g., adoptive T cell transfer and Graft vs Host (GvHD) models. Cost-effective 2D and 3D assays allow you to screen compounds before entering in vivo tumor models.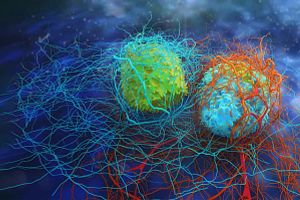 AACR Annual Meeting 2021
No matter the circumstances, cancer patients are waiting on new therapies. Browse this year's collection of scientific posters and resources so your oncology research can continue moving forward.
Accelerated In Vivo Screening of Early Compounds and Combination Therapies
New implantable microdevice (IMD) technology available through our partnership with Kibur Medical enhances your in vivo tumor studies the ability to efficiently and cost effectively administer and measure the effects of multiple drugs injected directly into tumors.
Implantable Microdevice Technology

In vivo implantable microdevice for oncology in vivo tumor models
Delivering microdoses of multiple drugs directly to tumor tissue, implantable microdevices allow us to measure the real-time effects of therapy on the surrounding tissue. Predict an optimal drug regimen, faster and at lower cost by simultaneously screening multiple combinations in a single animal.
Charles River is driving oncology drug discovery across a range of modalities including small molecules, immune therapies, biologics, cell therapies. At our BSL2 facilities we're even working on viral vectors and cancer vaccines.
Frequently Asked Questions (FAQs) about Cancer Models