Humanized Mouse Models
Charles River offers two study platforms using humanized mouse models (NOG, NSG, and NCG) engrafted with CD34+ or PBMC. Our models have been characterized with known immune checkpoint inhibitors of clinical relevance to help take the next step in evaluating your compound in immuno-oncology.

Figure 1: Schematic of Humanized mouse tumor models. The mouse immune systems are humanized by irradiating and destroying the host immune system and introducing human immune cells.
We have validated our patient-derived xenograft models as well as our human xenograft portfolio.
| CD34+ | PBMC |
| --- | --- |
| HSC derived from umbilical cord; multiple donors in each cohort. | A single cohort of animals can engraft with a single donor. |
| ~Week 15: > 25% huCD45 blood cells | Week 3: ~30% huCD45 blood cells |
| T cell focused | T cell focused |
| Long-term studies (no GvHD) | Short-term studies due to GvHD |
| Number of T cells may vary with multiple donors | GvHD onset varies with donor |
|   | Less costly approach |
These models can be combined with a variety of tools to enhance your study outcomes, such as:
Histopathology
Biomarker screening
---
Learn about Charles Rivers Novel Humanized Mouse Model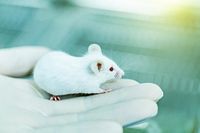 NCG/CRL as a novel (Charles River) humanized mouse model for pre-clinical oncology studies: immunophenotypic characterization and performance monitoring
---
Do you need a humanized mouse model? Charles River offers various options depending on your location. Click here to learn more