Cell-Based Assays
Limited target-based screening in simple cell-based assay that had little physiological relevance, has evolved to multicellular cell-based functional and biochemical assays in disease relevant platforms for drug discovery. To better understand the complex interplay of networks and pathways within these cellular processes Charles River has developed phenotypic screening assays in human primary cells with multiplatform readouts such as high content imaging for medium- and high-throughput.
Cell-Based Assays Keep Growing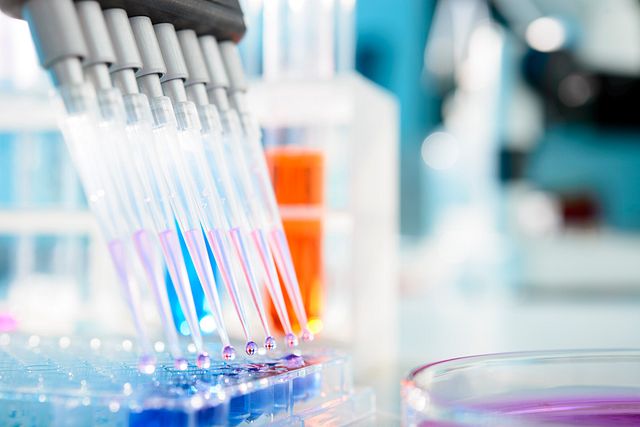 Cell-based assay development keeps growing to address the challenges of Drug Discovery. Director of Biology Omar Aziz explains the distinct advantages of cell-based assays to Biocompare. Read the Article
Understanding this complex biology requires the use of multiple cell-based technologies, from monitoring cell viability via cell proliferation assays through to phenotypic screening via high-content analysis. The most important thing is to not rely on any one technique. It is impossible to pick a single technique, as each candidate is not only different in concept but often also in the tools that are available to test your hypothesis. Cell-based in vitro assays that best mimic the complexity of a biological environment are more predictive of how a compound will respond in vivo.
We offer customized assay development and screening with readouts including high-content analysis and multiparameter detection (HT-FACS, Luminex and Meso Scale Discovery). With quality systems applied throughout the process – monitoring cell viability to data analysis – we deliver data you can trust.
Cell-based assay development
New applications using multicellular, co-culture and 3D spheroid platforms are building up speed, providing richer data faster to monitor cellular invasion, destruction, and adaptation, as well as insights into the immune environment. Cellular interactions can now be monitored in real-time around-the-clock for a better understanding of the reactivity in a live environment. These assays are more predictive of how a compound will respond in vivo.
100 complex human primary cell-based assays for hit finding, target discovery, and target validation
Cells derived from tissue, blood and differentiated stem cells (iPSC)
Cells from healthy donors or donors with defined disease characteristics
High-content analysis platforms with multiplexed readouts
Scientific expertise in over 25 primary human cell types and more than 20 disease indications
Mechanism of action studies using adenoviral SilenceSelect® and FLeXSelect® libraries
Human Primary Cell-Based Assay FAQ's
What is the advantage of a cell-based assay for drug discovery?

Cell-based assays assess the efficacy of compounds in a cellular environment, which is crucial to understanding compound behaviors in a biological system and align readouts with a translatable biomarker—without this it becomes very challenging to determine the in vitro to in vivo correlation for efficacious dose predictions.

What types of cell-based assays are best for phenotypic screening?

There is no single technique as each candidate and disease state is unique. Cell-based assay rabge from simple cell proliferation and cell viability assays to more complex 2D and 3D multicellular assays such high content imaging. Cell-based in vitro assays that best mimic the complexity of a biological environment are more predictive of how a compound will respond in vivo.

What is the most appropriate cell type to use in cell-based assays?

The main challenges of running cell-based assays are to identify and access the most appropriate cell type for the study. Using cells derived from tissue, blood, or differentiated stem cells present the required and target expression needed to resemble the in vivo system to ultimately translate to the clinic.