Neuropathic, Nociceptive, and Inflammatory Pain Drug Discovery
Pain is typically classified into three major types—nociceptive, inflammatory and neuropathic, and ion channels have been implicated in the pathophysiology of all types of pain. Advanced ion channel screening quickly and efficiently identifies and characterizes a compound that modulates the activity of voltage-gated sodium, calcium, or potassium channels, or ligand-gated ion channels.
---
Neuroscience 2019 Scientific Posters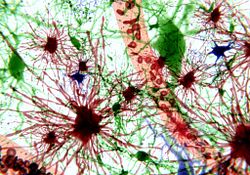 Discover new approaches and technologies to fuel your next neuroscience discovery. Check out our scientific posters from Neuroscience 2019.
Download the Posters
---
At Charles River, we use fluorescent assays, automated patch-clamp systems and manual patch electrophysiology assays to screen compounds for ion channel hit discovery. Working with the right team and technologies brings safer drugs to market faster. Ion channel modulation can present risks and disruption of normal central nervous system (CNS) function and can also present potential therapeutic liabilities. These risks can be limited by securing the right scientific expertise and equipment to help researchers quickly identify unintended interference.
As shown in the above grid, the major ion channel classes targeting the nociceptive pain pathway include the TRP (transient receptor potential) channels, ASICs (acid-sensing ion channels), sodium channels (Nav1.7, Nav1.8 and Nav1.9), HCN (hyperpolarization-activated cyclic nucleotide-gated) channels and calcium channels (high and low threshold voltage activated).
Charles River has a growing number of developed and validated ion channel assays including Ion Channel Selectivity Profiling Assays, Ion Channel Trafficking Assays, and Epithelial Short-Circuit Current Assays. In the above diagram, target compounds for pain are highlighted in red.
Charles River regularly invests in the latest technology and equipment, yielding the best quality data. The platforms used to identify ion channel hits include IonWorks® Barracuda™, Sophion QPatch HT® and Qube, and manual patch clamp. In the above image, Sophion Qube screening data is captured during an ion channel screening. Comprehensive, accurate data simplifies and shortens the cascade of identifying, making, and testing hit compounds.
Ask us about Ion Channels Targeting Pain