Hit Finding with HTS
High-throughput screening (HTS) is an efficient means to rapidly identify promising compounds, but what happens when you get poor data? Unanticipated results can derail your program or force a total restart, wasting your resources.
Get protection from the unpredictability of science and make the most of your high-throughput screening investment by working with a flexible, collaborative partner who lets you know the minute the unexpected occurs and makes the necessary adjustments to optimize your program and keep you on track.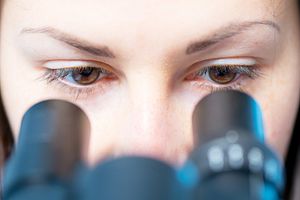 Hit Finding eGuide
Hit finding is complicated. From traditional high-throughput screening to virtual screening, there are many options to consider. This eGuide provides a walk through of hit identification approaches and next steps.
Download the eGuide
Charles River regularly invests in the best HTS screening platform technologies. We screen for the identification of hit compounds using our own libraries, or those libraries brought to us by our clients for HTS screening in drug discovery.
Compound Libraries for HTS
Whether you're targeting oncology, neuroscience, rare disease, inflammation, musculoskeletal disease, cardiovascular disease, or other systems, you'll find robust hits in one or more of our diverse, sizable collection of compound libraries:
Diversity compound library (552,000)
Lead-like compound library (153,000)
Natural Product Inspired (25,000)
Fragment Screening Set (2,500)
Pharmacological Set (7,900)
SoftFocus Set (41,000)
HTS Assay Flexibility
When you outsource your high-throughput screening for drug discovery to our seasoned team, you benefit from our scientists' deep experience with the most challenging targets and assay systems, including your own. Supporting assay transfer, our HTS screening platform allows us to screen client libraries irrespective of size, frequently conducting screens of approximately 1 million compounds or more as single compound per well. We can also store a copy of your library for multiple screening campaigns.
Hit Discovery Results
Our robust quality management system (QMS) and assay validation procedures generate high quality data processed through IDBS, Titian, and Dotmatics software suites to ensure the accurate and confidential transfer of your high-throughput screening data.
Hit Expansion
Maximize your high-throughput screening investment. Enlarge your pool of active compounds and gain early structure-activity relationship (SAR) data with our cost-effective hit expansion service, including computational methodologies and AI.
By examining chemical motifs and scaffolds found to have activity in the primary high-throughput screening, we can mine our extensive compound collection and select sets of related compounds for follow-on screening. This helps to rapidly identify additional hits and new scaffolds as well as to build SAR around existing hits. These additional compound sets are identified using 2D and 3D similarity and pharmacophore searching.
Frequently Asked Questions (FAQs) about High-Throughput Screening Services