Antibody Libraries for Antibody Discovery and Development
Don't waste time in translation or dealing with poor attributes. The right therapeutic-ready single chain antibody discovery library rapidly delivers human antibody hits right out of the gate - unparalleled in their developability, enabling the fastest route to the clinic.
---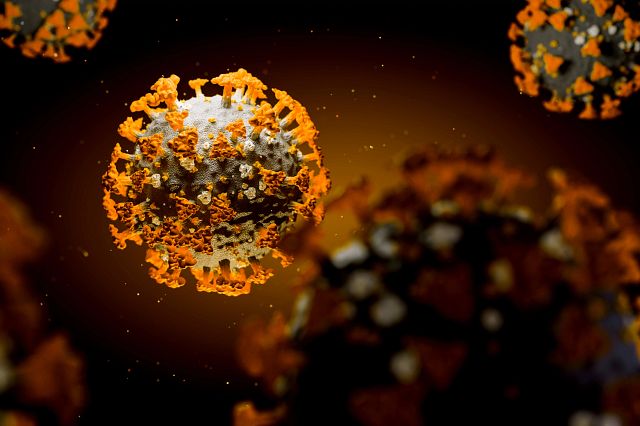 Successful ID of therapeutic antibodies against COVID-19
The SuperHuman antibody library and the Tumbler optimization technology identified antibodies shown by independent labs to completely block the novel coronavirus from infecting human cells. Read the press release
---
Rapidly discover unique antibodies against any target of interest with this antibody library screening phage display technology. The graph below shows how timelines are shortened by eliminating immunization, hybridoma, humanization and optimization phases. It also illustrates how the technology delivers greater number of hits.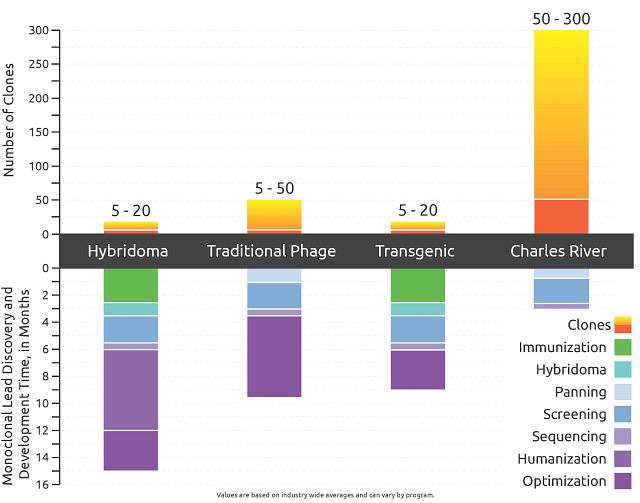 The SuperHuman fully human phage display library is comprised of 76 billion unique fully-human antibodies, with the diversity to deliver therapeutic leads in antibody discovery against the hardest targets, including GPCRs, ion channels, pMHC complexes, anti-HIV bnAbs, allosteric modulators, mouse/human cross-reactive epitopes, anti-idiotypics, and bi-epitopics. Leads are perfect for IgGs, CAR-Ts, bi-specifics, ADCs, and nanobody applications.
The SuperHuman antibody library is guided by machine learning and computational optimization, consisting of antibodies carefully selected from humanity's natural immune repertoire and engineered for optimal therapeutic antibodies. 
This platform is ideally suited for CAR-T antibody discovery. The antibody scFv format provides a plug and play environment, reducing time in the workflow.
Use this custom antibody library and antibody discovery platform to:
Identify hits with unprecedented speed

With hits against even the most challenging targets, the antibody discovery platform dramatically reduces therapeutic biologic hit discovery time to as little as 4 weeks.

Watch this video to see how a client reduced discovery time by using the SuperHuman library. The client first panned yeast display, then phage display, and finally mice models with no promising results. The client eventually found success with the SuperHuman library.

Ensure more hits through diversity

The SuperHuman library is over 100x more diverse than any previous human antibody library. This unprecedented diversity has resulted in a unique engineering opportunity: a library that generates over 300 unique hits against every one of the antigens in the pipeline. Given the number of hits, this library can be panned under normally impossible aggressive conditions, recovering hundreds of picomolar binders, saturating coverage of hits against every epitope, and isolating multispecies cross-reactive members against target homologs without additional engineering.

Pre-optimize hits now to save time and reduce costs later

While the CDR-H3 and V-gene frameworks define much of a clone's interaction with the target, variations in the other CDRs can impact affinity and breadth of reactivity. The human antibody library was designed with about 5 billion CDR-H3s but 76 billion total antibodies. Due to the combinatorial design, each hit from the antibody library screening will appear with multiple variants. The result is key engineering guidance and optimization of every hit right out of the naive library.

This antibody discovery platform has been successful identifying therapeutic antibodies for the novel severe acute respiratory syndrome (SARS-CoV-2), responsible for the coronavirus disease (COVID-19).The antibodies were found to be successful in neutralizing the SARS-CoV-2 virus.
Compile, Analyze, and Optimize Antibodies
Artificial intelligence-based Tumbler technology provides a method for rapidly generating 500+ million versions of an input antibody in order to affinity mature, thermostabilize, deimmunize, species-cross react, biochemical liability remove, humanize, pH sensitize, and otherwise engineer an input antibody.
AbGenesis is a user-friendly, cloud-based computational platform that compiles and analyzes sequence data quickly so researchers can rapidly complete antibody and immune repertoire analyses. From analyzing individual cells to millions of B-cell and T-cell receptors, as well as linking sequence and phenotype (affinity, expression efficiency, stability) data, AbGenesis allows researchers to derive meaningful insights and make informed decisions on all facets of antibody discovery.
End-to-end Platform for Therapeutic Antibody Discovery and Development
This antibody discovery platform technology creates a unique end-to-end platform for therapeutic antibody programs. Learn more about the integrated target to clinic portfolio:
In vitro biology
Antibody production
Contact an Antibody Library Screening Specialist
---
In 1986, the US FDA approved the first mAb to limit organ transplant rejection. Follow the journey, where next generation antibody discovery technologies contribute to therapeutic or diagnostic mAbs now approved. Read the article
---
Antibody Discovery and Antibody Library Screening Frequently Asked Questions (FAQs):