Analysis of Macromolecules Using Ligand Binding Assays (Nonclinical and Clinical)
As biotherapeutics become more prominent in the drug development space, there is an increased need for ligand binding assays and biomarker assays to assess therapeutic efficacy. With this growth, LBAs have evolved from radioimmunoassays (RIA) and enzyme-linked immunosorbent assays (ELISA or EIA) to include a wide range of highly sensitive, non-radioactive binding assays. The expanded applications with the required sensitivity, high sample throughput, and minimal sample clean-up have made ligand binding assays an essential technique for biotherapeutic quantitation.
Gyrolab® - More immunoassay data. Less time.
Gyrolab workstations are a valuable asset for biomarker, PK, and immunogenicity assays.
Advantages of the Gyrolab®
Regardless of which LBA technique is followed, each requires a high level of scientific and technical expertise and a great deal of experience to establish a specific and robust assay due to some unique challenges that are unlike those commonly encountered in chromatographic methods.
At Charles River we have an extensive knowledge bank of experience and know-how in developing and validating (GLP-compliant) sensitive, selective, and reproducible methods for biotherapeutics of any size – peptides, recombinant proteins, monoclonal antibodies, and oligonucleotides, as well as anti-drug antibodies, cell therapies, and gene therapies – for nonclinical and clinical sample analysis.
Check out a paper authored by our scientists in Pharmaceutical Technology on how Emerging Therapies Test Existing Bioanalytical Methods.
Ligand Binding Assay Platforms:
ELISA
Automated ELISA systems (Hamilton and Beckman)
Meso Scale Discovery (MSD)
Gyrolab
Single Molecule Counting Ultrasensitive Platform (SMCxPRO)
Ligand binding assay with LC-MS detection (hybrid assays)
Oligonucleotide hybridization assays
Luminex® technologies
Radioimmunoassay (RIA)
Enzyme immunoassay (EIA)
Fluorescence immunoassay (FIA)
Immunoradiometric assay (IRMA)
Dissociation-enhanced lanthanide fluorescence immunoassay (DELFIA)
Scintillation proximity assay (SPA)
Branched Chain DNA Assay (bDNA)
Ligand Binding Assay Services:
Method development
Method transfer
Method qualification
Method validation following current regulatory guidances and applicable GLPs
Nonclinical sample analysis
Clinical sample analysis
Clinical sample management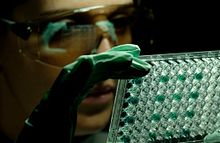 Ligand binding assays in the area of bioanalysis is not an independent discipline; therefore our scientists work closely with our immunogenicity, pharmacokinetic, and statistical specialists to deliver the appropriate solutions and interpretations applicable to your molecule and your program.
The suitability, characterization and selection of specific ligand binding assay reagents can have a profound effect on assay performance and our analysts investigate reagent specificity, binding affinity, specific activity, and much more to ensure the assay design is fit-for-purpose. Understanding the purpose of the assay, underlying biology, and drug mechanism of action early on will help minimize matrix interference, cross-reactivity, or nonspecific interactions in a complex biological matrix throughout the life of your program.
It may be necessary to increase the characterization of a ligand binding assay as a drug moves through the pipeline towards approval in order to better understand the strengths and limitations of an assay and how the results should be interpreted. Moreover, the regulatory landscape may change during the course of drug development and our bioanalytical scientists are continually monitoring new guidance documents and industry trends to minimize the risk to your programs. As a leading CRO, we are fully engaged and partner with you every step of the way from discovery to market.
Frequently Asked Questions (FAQs) about Ligand Binding Assays (LBAs)