Method Development and GLP Bioanalytical Method Validation
Chemical and biological drug concentration measurement and their associated metabolites are key to pivotal nonclinical toxicokinetic (TK) and pharmacokinetic (PK) studies and clinical Phase I-IV clinical trials. The results from well-characterized, appropriately validated and documented methods ensure reliable data to support regulatory decisions for your program.
Method Development
Bioanalytical method development for both small and large molecules must carefully define the design, operating conditions, limitations, and suitability of a method that is ultimately optimized for method validation. Method development involves finding the best procedures and conditions for extracting and detecting the analyte and/or its metabolites, understanding that each bioanalytical technique has its own characteristics and will vary from analyte to analyte. Our scientists are constantly developing and validating methods for both small molecules and biologics across many technology platforms including LC/MS/MS, LC/HRMS, ligand binding assays, automated ELISA systems, Gyrolab, RIA, SPA, MSD, and more. The network of bioanalytical chemists within Charles River provides an enormous knowledge bank to pull from for the most difficult of assays.
Method Validation
It is essential to employ well-characterized fully validated bioanalytical methods to ensure reliable results to make those critical go/no-go decisions along the drug development journey. Each bioanalytical method is validated according to applicable health agency guidance documents by our scientists so that it is appropriate for the intended meaning of a study and yields robust data for specificity, precision, and accuracy. From preclinical studies to the late phase clinical studies, a bioanalytical method may undergo modifications including the lower limit of quantification, additional metabolites, adjustments to minimize interference (particularly in disease-state matrix), or a new biological matrix. Experience is key to minimize delays. Whether your interest is in small or large molecules (e.g., antibody-drug conjugates, biosimilars, oligonucleotides, proteins, vaccines, gene therapy) our dedicated global team of some of the best bioanalytical chemists in the industry ensures that your method validation and subsequent drug quantitation studies meet your timelines and regulatory requirements.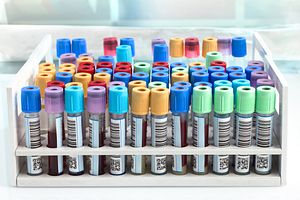 Incurred Sample Reanalysis
Incurred Sample Reanalysis (ISR) is now an established part of the bioanalytical process to support both preclinical and clinical studies.
Download the Technical Sheet
Bioanalytical Method Validation Guidelines
Different types or levels of validation may be employed including a full method validation, a partial validation, or a cross-validation. All three method validation types are well-defined in the draft ICH Bioanalytical Method Validation Guidelines.
Full Bioanalytical Method Validation Elements

Chromatographic Methods

Selectivity
Specificity
Matrix effect
Calibration curve
Range - LLOQ to ULOQ
Accuracy
Precision
Carry-over
Dilution integrity
Stability
Reinjection reproducibility

Ligand Binding Assays (LBAs)

Selectivity
Specificity
Calibration curve
Range - LLOQ to ULOQ
Accuracy
Precision
Carry-over
Dilution linearity
Parallelism
Stability

Partial Bioanalytical Method Validation

Modifications to a fully validated method may be evaluated by the conduct of a partial validation, ranging from as little as one within-run accuracy and precision determination to a nearly full validation.

Cross-Bioanalytical Method Validation

A cross-validation should be applied when data are obtained from different methods within or across studies, or when data are obtained within a study from different laboratories applying the same method, comparison of those data is needed. This should be assessed by measuring the same set of QCs in triplicate and study samples that span the study sample concentration range.
Frequently Asked Questions (FAQs): Bioanalytical Method Validation