Biomarker Testing
Biomarker assays can serve as surrogates for assessing the activity of candidate therapeutics, and are indispensable tools for validating targets, supporting the mechanism of action, predicting therapeutic efficacy, and alerting for potential toxicity. However, the process of identifying and validating new disease-related and pharmacodynamic biomarkers is quite challenging.
Biomarker identification is a multistep and iterative process beginning early in the drug discovery stage that helps build a strong biomarker testing strategy across all phases of development.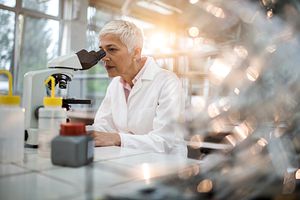 Cell and Gene Therapy Services and Products
Our comprehensive portfolio of preclinical CRO services provides the cell and gene therapy services and products, scientific, and regulatory experts to fully support your integrated program from start to finish.
How Can We Help
Our comprehensive global portfolio of biomarker services covers safety assessment as well as a wide range of therapeutic areas. This can help translate across a wide range of therapeutic areas. We can help translate them to the clinic and beyond while greatly accelerating candidate development and decreasing timelines. Optimal biomarker assays create a knowledge framework for confident decision making to help minimize risk. With techniques like genomics, transcriptomics, proteomics, flow cytometry, and metabolomics, companies may use many different approaches to discover and develop biomarkers.

Our knowledge and expertise allows us to assist with the discovery of biologically and scientifically relevant biomarkers, while measuring and interpreting their changes within the test system, relating them to the drug development program. Scientific excellence is ensured by a synergy between experts in multiple areas, adding value to the studies. From assay qualification to full validation, our experts propose fit-for-purpose validation fully adapted to the context of use (COU) of your biomarkers.
---
Now CLIA Certified
The addition of the Clinical Laboratory Improvement Amendments (CLIA) certification provides even more versatility to support your diagnostic needs in drug development and helps make informed decisions faster from lead optimization to commercialization. "We are excited to supply these services that are so much in demand and to be able to provide end-to-end diagnostic assay services to our clients for all phases of drug development, including post market." said Rob Stachlewitz, CVP of Global Lab Sciences.
Learn more
---
Biomarker Platforms and Therapeutic Areas
Platforms

Soluble Markers

LBA

ELISA
Bioplex/luminex
Gyros
MSD
Simoa
SMCxPro
Ella

LC-MS

Cellular Markers

IHC/ISH
Flow cytometry (Fortessa ,Miltenyi)
ELISPOT
Cell-based assays

Genomic Markers

RT-PCR, ddPCR: SNP
bDNA
Affymetrix arrays and plates: miRNA profiling, DMET polymorphism analysis, genotyping, gene expression profiling
Next Gen Sequencing: RNASeq, targeted Seq, WES, WGS
How can biomarker testing add value to my program?

Biomarker testing serves as a critical tool in drug discovery and development. The ability to develop biomarkers in animal models and translate them to the clinic can greatly accelerate candidate development as well as decrease associated risks and timelines.

For which therapeutic areas do you offer biomarker analysis?

We offer a comprehensive range of biomarker services in key therapeutic areas and safety assessment. From early discovery stages to clinical support, our scientists have the expertise to relate biomarkers to every stage of a drug development program. We employ multidisciplinary teams of experts in oncology, inflammation, immunology, infectious disease, ocular disease, metabolism, and diseases of the cardiovascular, renal, respiratory, and central nervous systems.