Molecular Biology Services
Charles River performs a comprehensive array of genomics-based assays to support all phases of drug development, from discovery and preclinical studies through clinical trials, in either singleplex or multiplex formats.
We isolate and purify DNA and RNA from a variety of tissues, body fluids, and cells in culture. Our extraction procedures are optimized to provide the highest quality results; both quality and yield of extracted nucleic acid samples are assessed prior to being used.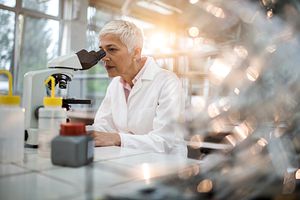 Cell and Gene Therapy Services and Products
Our comprehensive portfolio of preclinical CRO services provides the cell and gene therapy services and products, scientific, and regulatory experts to fully support your integrated program from start to finish.
How Can We Help
SERVICES

Real-time quantitative and reverse transcriptase PCR
Molecular biology

Reporter gene assays
Genomic and plasmid DNA isolation
Residual mammalian DNA detection by hybridization analysis

Assay feasibility, development and validation
Biological sample analysis
GLP/non-GLP study designs and reporting

TECHNICAL CAPABILITIES

Real-time PCR platforms capable of supporting multiple fluorescent chemistries
Luminex®-based QuantiGene® system
Bioluminescent reporter gene assays
Allelic discrimination assays (TaqMan® probe chemistry)

BIODISTRIBUTION/SHEDDING STUDIES

Gene and cellular therapy products are at the forefront of modern medicine, and Charles River has helped our partners in the preclinical development of many viral, plasmid or cell-based drug products.

For each product, detailed biodistribution as well as shedding data are required by regulatory authorities. We combine our extensive experience in toxicology with our expertise in genomics to offer you advice and conduct robust biodistribution/shedding studies that meet the expectations of current regulatory authorities and guidelines. We can use diverse matrices from the whole panel of animal models and development states to investigate a wide range of compounds (vaccines, cells, plasmids, viruses, etc.).

With a suitably qualified detection system (e.g., qPCR) and genomics-specific necropsy procedures, we can detect as little as five copies of gene or cell DNA in any tissue or fluid in any species. Additional expertise in specialty areas such as DART allows us to -perform complete investigations covering integration, expression, persistence, and shedding.

qPCR validation studies include:

Precision/accuracy
Dynamic range
Detection limit
Inhibition monitoring
Specificity, selectivity
Matrix effect
Stability
Extraction yields