Charles River's Insourcing Solutions℠
The day-to-day operations of running an animal facility can be stressful. Urgent issues may cross your desk, challenging you to quickly find or replace qualified staff such as animal technicians, specialists, and scientific professionals. You may need to quickly provide training courses for your team. Or you may face the daunting task of launching a new site or refurbishing a current one.
Charles River's Insourcing Solutions℠ can help. As the world's leading provider of research animal models and services, our industry experience and scientific networks position us to help you streamline your operations while saving you time and money.
---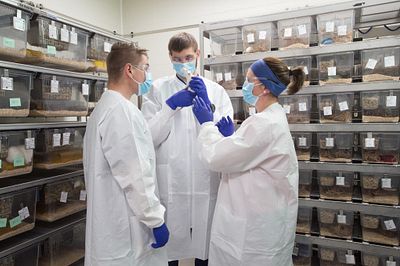 CRADL™ Vivarium Rental
Struggling with the thought of building and managing a new vivarium? By occupying space at one of Charles River's CRADL™ facilities, you can eliminate large infrastructure costs and focus on your research. It's an ideal solution for startups looking for a lean approach to their research, and for existing pharmaceutical and biotech organizations looking to expand.
---
How Insourcing Solutions℠ Can Help Your Organization
How can Insourcing Solutions℠ help you? It depends on the role you play at your animal facility. Whether you are procurement, a facility director or a manager, we can help support your facility, staff, and research. Insourcing Solutions℠ aids in streamlining research through customized work place solutions that are seamlessly integrated into research program to become an extension of a research facility or institution.