Bacterial Endotoxin Testing Services
Our bacterial endotoxin testing services laboratory can support you with performing your critical tests to help streamline the process to final product release. By partnering with Charles River, you can be confident that our experienced specialists can help improve the compliance and efficiency of your endotoxin testing program and help you to achieve control, consistency and precision in your laboratory.
What if you could achieve more consistency and reliability in your BET results while remaining FDA compliant?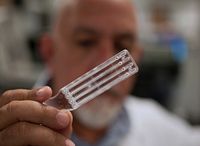 Simply answer these 5 questions to see which rapid technology can help you reduce analyst training and retest rates, and eliminate human error in data entry, collection, and interpretation. Answer the Questions
---
Microbial Solutions Customer Portal

Easily access Endosafe® and Celsis® reagent kit inserts, print user guides, consult operator manuals, review Safety Data Sheets (SDS), and download Certificates of Analysis (CoA) and Certificates of Quality (CoQ).
Check It Out
---
FEATURED SERVICES

Routine endotoxin detection for non-release applications*

The bacterial endotoxin testing services performed by Charles River uses customer-requested methods for submitted samples. Our optimized formulations provide increased sensitivity, greater linearity, and superior interference resistance. Endotoxin testing formulations are offered with a comprehensive range of buffers and accessories, providing numerous options for resolving interferences with difficult to test products.

Product validation – one and three lots*

Before performing product release testing, Charles River offers validation testing for up to three product lots.

Product release testing**

Charles River can be your partner during this crucial part of ensuring drug product quality and safety. Regulatory bodies such as the U.S. Food and Drug Administration (FDA) and the European Medicines Agency (EMA) require lot release tests for each biopharmaceutical batch.

Stability testing**

Charles River can test your product for stability after exposure to a variety of environmental factors such as temperature, humidity and light.

Depyrogenation validation

Charles River offers depyrogenation validation testing from oven validation to stopper washing endotoxin reduction using specifically contaminated articles to verify a 3-log reduction in endotoxin content.

On-site training

Charles River can create and facilitate training courses on LAL to meet your specifications.

SOP and protocol writing

Charles River offers SOP and protocol writing assistance to help our customers create a procedure specific to your operation including the activities necessary to complete tasks in accordance with your standards and regulations.

Service
Code

Routine endotoxin determination, non-regulated, any method*

Endosafe® cartridge technology
Gel-clot - Specific sensitivity requests can be met with ranges that include 0.015 to 0.25 EU/mL for gel-clot.
Kinetic chromogenic - Specific sensitivity requests can be met with ranges as low as 0.001 EU/mL for the kinetic chromogenic method.
Kinetic turbidimetric

TS700

| Service | Code |
| --- | --- |
| Product validation – 3 lots | TS203 |
| Product validation – 1 lot | TS201 |
| Product release testing** - Quality agreement available with this testing | TBET1 |
| Stability testing** - Quality agreement available with this testing | TBET1 |

Additional Services

| Service | Code |
| --- | --- |
| Device extraction preparation or special sample preparation such as heat treatment*** | TS700E |
| Depyrogenation validation (≤ 10 vials) | TS203 |
| Depyrogenation validation (> 10 vials) | Inquire when >10 vials |
| On-site training† | TS400 |
| SOP and protocol writing | TS800 |

Endosafe® LAL proficiency testing program: For schedule information, email [email protected], or contact us at +33 (0) 474 72 28 53.

*Includes methods development and sample preparation.
** Product validation must be completed prior to finished product release or stability testing.
*** If Charles River prepares the extraction or treats the sample, there is an additional price per sample.
† Travel expenses additional.

FRANCE SITE ISO CERTIFICATION

ISO 9001:2015 concerns all of the activities carried out at the Charles River Endotoxin Microbial Detection site in Ecully (Lyon), France, as defined by the sale of material, equipment and reagents, provision of services, and training related to carrying out tests in laboratories in the field of endotoxin detection and microbial identification.

About ISO 9001:2015
ISO 9001:2015 sets out the criteria for quality management systems. It can be used by any organization, large or small, regardless of the field of activity. In fact, ISO 9001:2015 is implemented by over one million companies and organizations in over 170 countries. The standards outlined in ISO 9001:2015 are based on a number of quality management principles, including a strong customer focus, the motivation and implication of top management, a process-oriented approach and continual improvement. Using these standards helps ensure that customers get consistent, quality products and services.
How can you ensure regulatory compliance?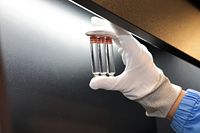 In order to comply with federal and international regulatory requirements, you must work with a partner that does the same. Our corporate compliance program assures clients, management, and regulators that our work meets your expectations.
Learn More About ISO 17025 Accreditation
Frequently Asked Questions (FAQs) About Endotoxin Testing Services