Multi-Cartridge Endotoxin Testing System
This benchtop system is comprised of five individual spectrophotometers built into a unit with a single Ethernet connector that links to your computer running EndoScan-V™ version 5.5.5 or higher, our 21 CFR Part 11 compliant-ready endotoxin measuring software. Since each cartridge runs independently, you can run your samples as needed and not wait for a full batch of samples for testing, obtaining results in approximately 15 minutes.
Data Integrity: Risk & Human Error in Endotoxin Testing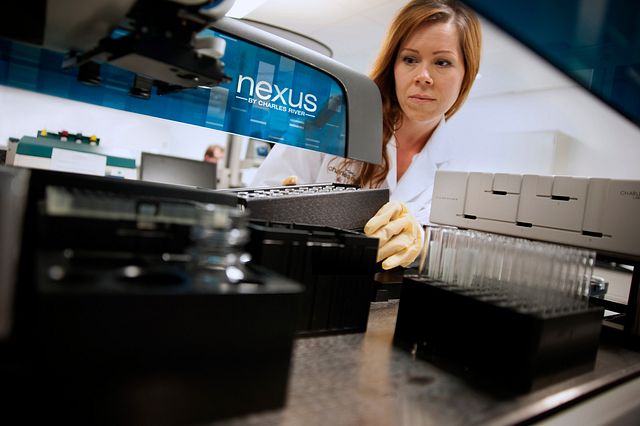 The human element can never be completely eliminated, but what can be done to mitigate errors and maintain your data's integrity?
Interested in improving your lab's efficiency? Watch the video to learn why over 5,000 organizations have adopted this rapid and proven technology to streamline their manufacturing processes.
Product Validation with the MCS™
The Endosafe-MCS™ and our FDA-licensed LAL cartridges are validated for bacterial endotoxin testing and can be used for product validation for both previously validated samples and new products.
PRODUCT DETAILS

Test multiple samples simultaneously
Samples run independently, allowing for random access
High throughput for real-time results
Single-step, quantitative LAL test
Uses FDA-licensed LAL cartridges
LAL test components all included in cartridges
Results can be analyzed via EndoScan-V™ endotoxin measuring software.
Sophisticated data management and reporting capabilities
Samples can be traced to the individual spectrophotometer used to perform the assay.
Four levels of sensitivity are available as testing options: 0.005, 0.01, 0.05 and 0.10 EU/ml.
No microbiology training is required; anyone can run this simple assay.
System qualification and validation support is provided if needed.

Product
Code
Endosafe® nexgen-MCS™ instrument
Power supply
Ethernet cable
One-year warranty
MCS150K
Endosafe® nexgen-MCS™ package
nexgen-MCS™ instrument
EndoScan-V™ software
Power supply
One-year warranty
MCS650K
EndoScan-V™ software
M1250

MCS™ END-OF-LIFE POLICY

Charles River is committed to producing environmentally friendly products as part of the EU Directive on Restriction of the use of certain Hazardous Substances (RoHS). With the release of the Endosafe® nexgen-MCS™ and as part of our End-of-Life policy, the original Endosafe®-MCS™ (MCS100K and MCS550K) is discontinued. The Endosafe® nexgen-MCS™consists of upgraded components in an effort to ensure compliance with the RoHS directive. Support for first generation systems (including parts, maintenance and calibration) will continue through December 31, 2022. Beginning in 2023, support for first generation MCS™ systems will be limited.
Endosafe® Customer Web Portal

Easily access and download Endosafe® certificates of analysis, material safety data sheets, package inserts, and warranty forms. Log In Now