Automated Endotoxin Testing System
Performing endotoxin testing on large numbers of samples using traditional methods can be both time-consuming and susceptible to outside influences, such as technician errors and standard curve anomalies. The time required to prepare standards and samples can often exceed the assay time while simultaneously tying up valuable resources.
As manufacturing and technology evolve, your organization should be looking at changing methods that are heavily dependent on human interaction. Moving to automated endotoxin testing will help to lower your coefficient of variations, reduce ergonomic issues, save lab analyst time, and reduce standard curve variability. Endotoxin automation is the most efficient standard of testing in your lab. 
Maintain Control of Your QC Processes
Traditional bacterial endotoxin tests using a duplication (i.e., repeating the same task or effort in order to identify or avoid error) method to mitigate human risk, such as the "four eyes principle," are the least effective at preventing human error, while endotoxin automation is the most effective, as it is less reliant on subjective data.
By reducing human error in processes, they are not only more efficient, but they also increase the quality of products produced, thus positively impacting patients and their safety.
---
How does the Endosafe Nexus work?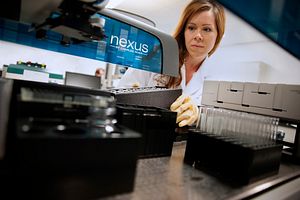 Learn how to use the Nexus automated endotoxin testing system in this comprehensive virtual demonstration video series.
---
User Benefits Endosafe Nexus Automated Endotoxin Testing System
Data Integrity

Bar-coding technology enhances data management and reduces input errors and the need for subsequent investigations.
Full, searchable audit trail, with every action recorded to ensure data integrity. Add Charles River Cortex™ for an integrated solution to securely consolidate, query, and analyze all real-time endotoxin data for necessary internal QA and FDA trending reports.
Addresses increased focus on data integrity by regulators, minimizing risk of most commonly cited events.

Lab Efficiency

Hands-off rapid automated endotoxin testing system with the ability to test up to 60 samples per run.
Automated dilution and sample handling with the ability to suspend current run.
Can be utilized for central lab water testing and product testing.

Product Codes

Product
Code
Nexus robotic system 24-tube racks
nexgen-MCS™ instrument
Nexus™ integrated software
Computer
Anti-static mat
MR65024K
Nexus robotic system 32- tube racks
nexgen-MCS™ instrument
Nexus™ integrated software
Computer
Anti-static mat
MR65032K
Sterilized conductive 300 μL tips case
(5,760 per case)
MR300
Sterilized conductive 1 mL tips case
(3,840 per case)
MR1000
Did You Know Endosafe LAL Cartridges Are a Compendial BET Method?
---
How The Nexus Process Works
Frequently Asked Questions (FAQs) About Endosafe Nexus