Kinetic Chromogenic Assay Reagents
Endochrome-K™, our LAL kinetic chromogenic assay (KCA) facilitates your endotoxin screening with its ease of use and unique reagent stability. Featuring an optimized 0.005 EU/mL sensitivity*, our kinetic chromogenic assay reagent provides heightened sensitivity for more accurate results, graterlinearity for endtoxin analyses, and superior interference resistance. Our LAL kinetic chromogenic reagent is desinged to enhance your kinetic chromogenic assay and rapidly deliver accurate results.
*Lower sensitivity lots available on request, reach out to your local representative if you require a more sensitive lysate.
 
Review our endotoxin testing solutions
 
---
Cartridge, Kinetic, or Gel-Clot?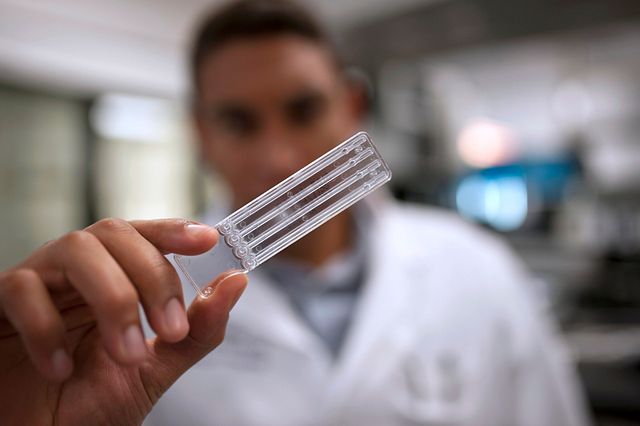 Whatever you're testing, whichever testing method you choose, Charles River's Endosafe reagents have you covered. See which one is best for your organization.
Endosafe® Kinetic Chromogenic LAL Reagents

Product
Code
Endochrome-K™ kit - 256 tests
(sensitivity= 50-0.005 EU/ml)
8 X 3.2 mL vials
2 X 10 ng control standard endotoxin
3 X 30 mL LAL reagent water
R1708K
Endochrome-K™ vial pack - 320 tests
(sensitivity= 50-0.005 EU/ml)
10 X 3.2 mL vials
R1710
Endochrome-K™ bulk pack - 3,200 tests
(sensitivity= 50-0.005 EU/ml)
100 X 3.2 mL vials
R17100
Endpoint chromogenic kit (140 tests)
5 × 1.4 mL vials of chromogenic LAL
1 × 10 mg vial of chromogenic substrate S-2423
2 × 2 ng vials of endotoxin
2 × 30 mL vials of LAL reagent water
1 × 15 mL 0.05 M vial of Tris buffer
R160K
We've developed and optimized a range of quantitative and qualitative LAL formulations providing an unrivaled combination of sensitivity, linearity, and interference resistance. Find out more about Charles River's kinetic turbidimetric LAL and our other bacterial endotoxin testing solutions. 
Frequently Asked Questions (FAQs) About LAL Kinetic Chromogenic Assays