MALDI-TOF Instrumentation Combined with Accugenix® Microbial Database
Based on MALDI-TOF mass spectrometry, the MALDI Biotyper has become widely accepted across industry segments as the next generation of microbial identification. While conventional biochemical identification takes time-consuming incubation and ancillary pretests, the MALDI-TOF Axcess® System for microbiology testing allows for nearly instantaneous identification of isolated colonies from a plate.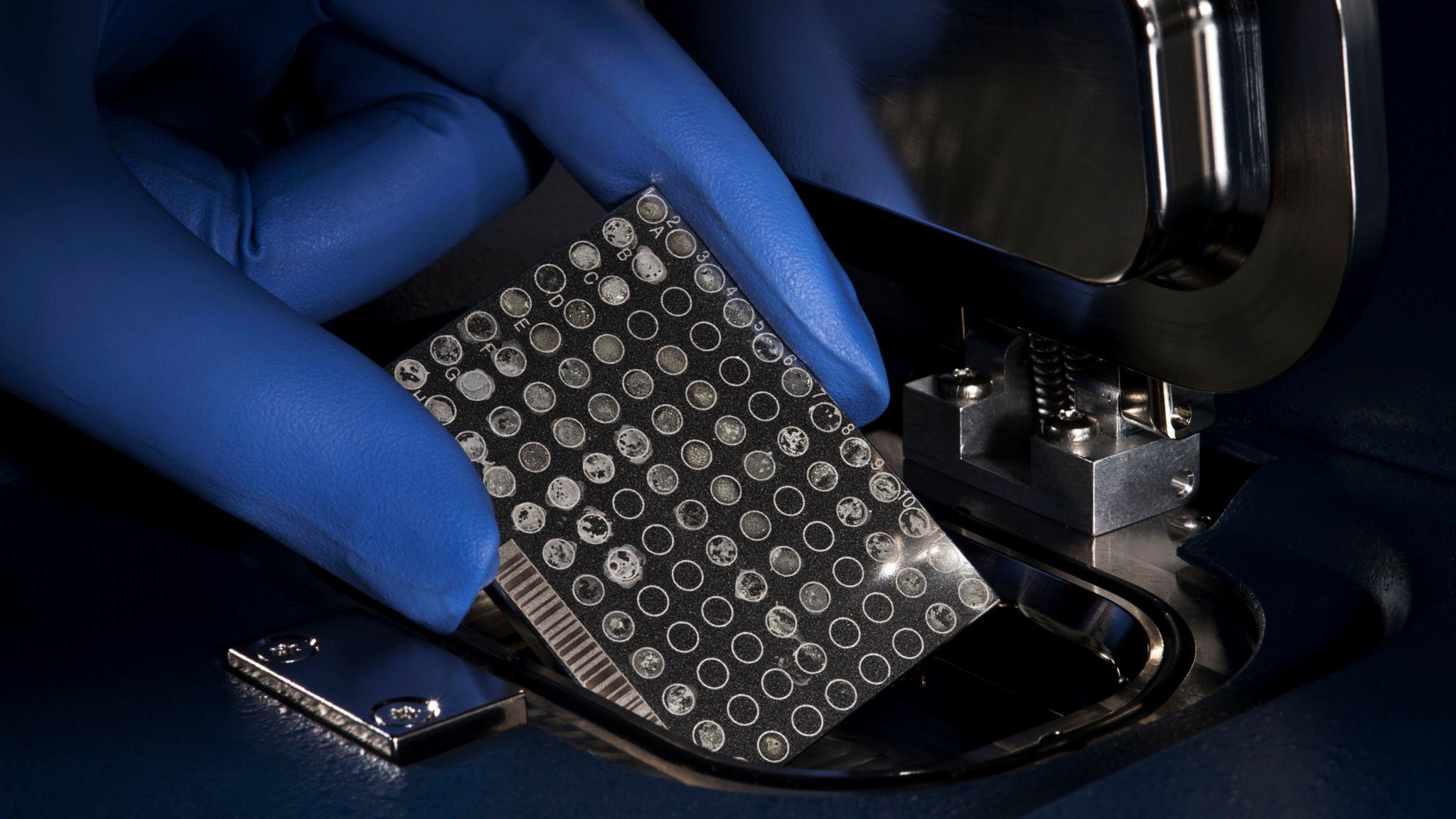 An Axcess® System target plate for MALDI preparation.

Axcess® System Features
Bruker MALDI Biotyper: Automated self-cleaning, silent bench-top MALDI-TOF system with enhanced peak resolution, sensitivity and performance.
Accugenix® MALDI-TOF Reference Library: The largest curated MALDI-TOF microbial database focused on identification of microorganisms in aseptic and non-sterile manufacturing environments.
Accugenix® MALDI-TOF Identification Reports: Clear ID interpretation allows you to make confident operational decisions.
No-Match Sample Guarantee: Complimentary AccuPRO-ID

®

service to test samples that fail to yield a successful species identification at your location.
Backup Identification System: If your Axcess® system should unexpectedly go out of service, you can send your samples to your local Accugenix® facility. Although the likelihood of this occurring is remote, we give you the ability to continue your operations and avoid manufacturing delays. 
Security: Our IT approach is purposely designed with multiple redundancies to protect your data and to ensure continuity of service 24/7.
Tracking and Trending through Our Customer Web Portal: The Accugenix® Customer Web Portal makes it easy to get a glimpse of your environmental control data, past and present. Filterable reports help you note significant changes in microbial flora when investigating excursions or conducting root cause determinations.
System Throughput: Workflow analysis has shown that 4 target plates containing 48 spots each can yield results in 60 minutes (15 minutes/target plate), compared to other MALDI-TOF instrumentation that can take up to 180 minutes for the same workload or phenotypic systems that can take up to 18 hours of incubation time for biochemical reactions to occur.
Specifications

System
Order Code

Axcess® sirius one MALDI Biotyper package
Starter kit for MALDI-TOF MS
Barcode scanner for MALDI Biotyper
Reference physiocare pack (tips and pipettes)
Software package MALDI Biotyper Compass HT
Compliance Assistance Module

AXC750
Axcess® sirius MALDI Biotyper Package
The sirius package includes all the features and accessories as the Axcess® sirius one MALDI Biotyper package, with the added benefit of both positive and negative ion mode for microbial identification and future applications.
AXC850
Axcess® MALDI Biotyper-CM Reagents
Bacterial test standard (BTS)
Matrix HCCA
MSP 96 steel target plate
MSP adapter for MALDI Biotarget
MALDI Biotarget 96 disposable target plate 20/pk
AXC110
AXC150
AXC9600
AXC4800AD
AXC9600D
Axcess® Startup Package
The Axcess® Startup Package is available with the initial Axcess® instrument purchase. It includes the Bruker IQ/OQ/PQ, Charles River SQ/MV, and Axcess® authorization and licensing for one year. Required with purchase.
AXC8000
Axcess® Annual Instrument Service Agreement Options
Complete CARE
Complete CARE priority plus
Annual service contract gold
Annual OQ/PV with service agreement
Annual OQ/PV without service agreement
Warranty plus
On-site Training (per day)
Software qualification/methods validation
AXC900
AXC1100
AXC1000
AXC400B
AXC 404B
AXC700
TS200
AXC502

Partnership Agreement with Bruker to Sell the Axcess® System

On April 15, 2013, Charles River was pleased to announce a partnership with Bruker to provide rapid, accurate microbial identifications to the industrial microbiology market, including pharmaceutical, biopharmaceutical, personal care and other manufacturing industries. Through this agreement, the Charles River Endotoxin and Microbial Detection division will sell the Axcess® System, an offering that combines the Bruker MALDI Biotyper system with a custom data analysis software solution that allows instantaneous access to the Accugenix® microbial database for identifications.

By combining the precision and robustness of the Bruker MALDI Biotyper technology with the Accugenix® cGMP-compliant microbial database and software, the Axcess® System can maximize performance for environmental monitoring applications while simplifying customers' validation commitment. As the Accugenix® microbial database is frequently updated to reflect the inclusion of novel organisms relevant to industrial manufacturing facilities, customers will always have access to the most current and validated database for identifications, saving time and costs associated with validating library releases. Included in the Axcess® System offer, Charles River will provide sequence-based identifications for those isolates that fail to be identified by the MALDI Biotyper, minimizing the customer's need for a secondary system. By generating accurate and consistent microbial identification through this offer, manufacturing sites will be better able to reliably track and trend their facility for routine gridding studies or possible excursions.

Dr. Gary Kruppa, Vice President of Business Development at Bruker Daltonics, stated: "We are delighted to be working with the Endotoxin and Microbial Detection division of Charles River on distribution of the MALDI Biotyper into the industrial and pharmaceutical microbiology markets. From my experience, the technical and sales teams that Charles River brings to this effort are among the best and most respected in these industries. With Charles River products in virtually every pharmaceutical microbiology laboratory, we are looking forward to working with Charles River to expand our efforts to make the MALDI Biotyper the new standard in microbial identification for industrial microbiology."

"By partnering with Bruker Daltonics, the recognized industry leader in MALDI-TOF mass spectrometry, we have reinforced our mutual commitment to meeting our customers' microbial identification needs with innovative and comprehensive environmental monitoring solutions. Our entire team here at Charles River is excited to introduce the Axcess® System to the pharmaceutical microbiology market and to represent the MALDI Biotyper by providing the same professionalism, responsiveness and expertise Bruker is known for," stated Foster Jordan, Corporate Senior Vice President, Charles River Endotoxin and Microbial Detection.

Frequently Asked Questions About MALDI-TOF for Microbiology Testing