Environmental Monitoring Analysis and Data Management
Highly regulated industries are required to establish comprehensive and reliable quality systems and environmental monitoring programs that measure the state of control of their manufacturing facility and ensure data integrity. This state of control can be demonstrated with the Accugenix® environmental monitoring data management tracking and trending reports. With the Accugenix® 21 CFR Part 11 compliant environmental monitoring tools, users can import and export organism data with detailed records of identified species, frequency of occurrence, and other aggregated information for analysis.
View All Your Microbial ID Data in One Place
Tracking and trending features within our web portal can streamline how you manage your EM data.
---
Webinar: Tracking and Trending Made Easy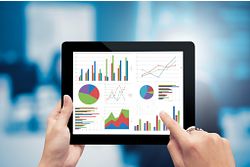 Take 20 minutes to watch our recorded presentation. Watch Now
---
Explore Interactive Accugenix® Tutorials
Click through the links below for examples of how the Accugenix® Tracking and Trending reports can provide actionable information for operational decisions.
7 EM Data Challenges
"I love how you can see in the home page as soon as we sign in the trending data of the past three months and the frequency of occurrence of the microorganisms. This has helped us identify faster our most common microorganisms in order to perform cleaning efficacy testing and choose the correct cleaning agents for our cleanrooms."
— Quality Control Coordinator, health services industry, Tukwila, WA
---
Our data trending solution provides a record of all environmental isolates identified with Accugenix®. Recent enhancements also include tracking and trending customization features for data entry fields and report parameters while meeting requirements of 21 CFR Part 11 and GAMP5 standards. The Accugenix® Customer Web Portal allows users to demonstrate the state of control of their manufacturing facility through the tracking and trending and environmental monitoring tools.
 
Frequently Asked Questions (FAQs) about Tracking and Trending