Screening of Research Biologics of Rodent or Human Origin
Research biologics of rodent or human origin are often introduced into laboratory animals as part of an investigative procedure. The presence of pathogens can infect the animal post-inoculation, causing disease and impacting the animal's welfare. It could also lead to the loss of valuable research data, delaying your timelines and increasing costs.
To prevent these negative impacts, precautionary cell line screening should be performed on biologic materials prior to release to confirm that they are free of infectious agents and originating from the appropriate host species. Cell line screening is provided as non-GLP for research purposes only.
​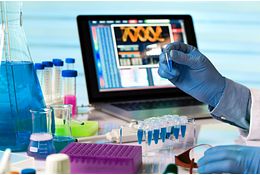 Make Your Sample Submission Easier
By using our Laboratory Testing Management® (LTM™) software, you can streamline the submission of your samples, track them, and report results all in one convenient place.
Cell line screening is just one of the services we offer as part of our diverse portfolio. Check out our catalog to discover some of the other ways we can optimize your animal research.

Frequently Asked Questions (FAQs) about Cell Line Screening for Research Biologics 
How can I submit my samples to Charles River?

Laboratory Testing Management® (LTM™) allows customers to generate submission forms electronically, as well as schedule samples, including those for cell line screening, for submission. Complimentary sample shipping supplies are available for all of our research animal diagnostic services. By using LTM™ Ship, customers receive free shipping on diagnostic and genetic testing samples (excluding live animals in the continental U.S.).

What are research animal diagnostic services?

Charles River's research animal diagnostic services program is built on a foundation of contamination prevention measures, effective pathogen detection, and scientific and technical proficiency to help vivarium managers design and maintain a clean and secure facility.

What is CLEAR for cell line screening?

Our CLEAR (cell line examination and report) PCR Panels are performed non-GLP, as this cell line testing service is available for research purposes only. Once you are ready to submit samples, visit LTM™ to create your order online.